Trump Criticized "Crooked Hillary" Hours After The Bomb Suspect Was Arrested — VIDEO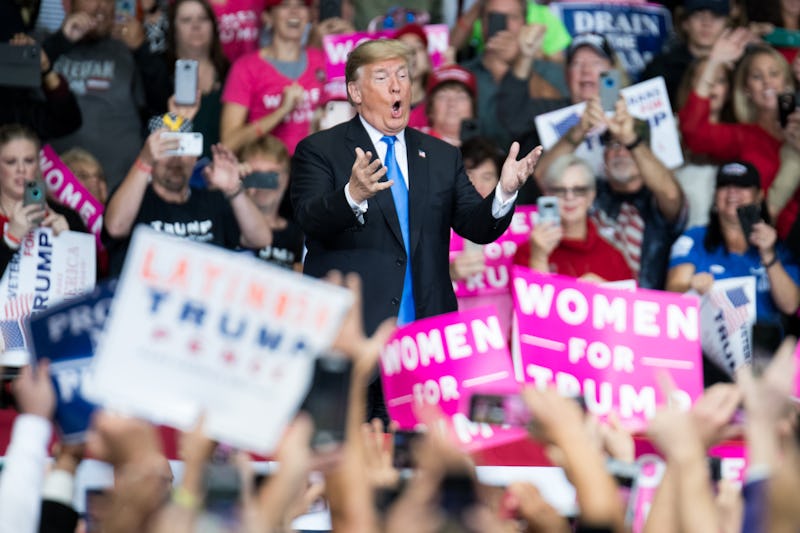 Sean Rayford/Getty Images News/Getty Images
It seems as if Donald Trump is done being "nice," as he calls it. Earlier this week, Trump said he was trying to be nice in light of news that authorities had discovered a series of mail bombs addressed to a number of his critics and Democratic politicians, including former President Barack Obama and 2016 presidential nominee Hillary Clinton. But by Friday night it seemed as if the president had slipped back into old habits. Hours after police made an arrest in the mail bomb case, Trump attacked Clinton, Democrats, and the media at a rally in Charlotte, North Carolina.
Before launching into denunciations of Clinton and the media that spurred the crowd to chant "Lock her up" and "CNN sucks," President Trump kicked off his Friday rally in Charlotte with a message about the importance of bringing a new "tone and civility" into politics. "Political violence must never ever be allowed in America, and I will do everything in my power to stop it," he said. "Everyone will benefit if we can end the politics of personal destruction."
But the president appeared to quickly forget his own message of civility, launching into an attack on the media for how it has covered news of the mail bombing suspect. "We have seen an effort by the media in recent hours to use the sinister actions of one individual to score political points against me," Trump said, in reference to reports the suspect is one of his supporters. "The media has tried to attack the incredible Americans who support our movement to give power back to the people. That's what our movement is."
As chants of "CNN sucks" echoed around Bojangles Coliseum, Trump claimed he wanted only "honest coverage" from the media. "Constant unfair coverage and unfair attacks only serve to drive people apart and undermine healthy debate," he said.
Two of the 14 pipe bombs sent out were addressed care of CNN's New York office, according to the FBI.
Later, Trump referenced Clinton, his former rival and one of the recipients of a pipe bomb, with the nickname he'd given her in the 2016 election. "Many of these Democrats, almost all of them, including [Senate Minority Leader Chuck] Schumer, including Crooked Hillary, including everybody — many of these Democrats approved the wall in 2006," Trump told the crowd, who broke into chants of "Lock her up."
"Oh boy, they're going to be reporting about you tonight," the president said.
When the president also mentioned California Rep. Maxine Waters — another recipient of a pipe bomb package — while speaking in North Carolina on Friday, he said he was "going to be nice tonight" and thus wouldn't make his usual remarks about her.
"I want them to say, 'he was so nice tonight,'" he said.
Earlier in the day, Trump appeared to suggest that news of the pipe bombs was somehow responsible for slowing GOP momentum at the polls ahead of November's midterm elections. "Republicans are doing so well in early voting, and at the polls, and now this 'Bomb' stuff happens and the momentum greatly slows — news not talking politics," Trump tweeted. "Very unfortunate, what is going on. Republicans, go out and vote!"
Earlier this week, 10 packages containing pipe bombs were found addressed to a number of prominent Democrats — many of whom are also vocal Trump critics — including Obama, Clinton, Waters, former Vice President Joe Biden, former Attorney General Eric Holder, former CIA Director John Brennan, and actor Robert De Niro. On Friday, packages similar in appearance to those containing pipe bombs were discovered by authorities addressed to Sen. Cory Booker, former Director of National Intelligence James Clapper, Sen. Kamala Harris, and Democratic billionaire Tom Steyer, bringing the number up to 14.