You Can't Make This Up: Trump Reportedly Gave Kim Jong Un Elton John's "Rocket Man" CD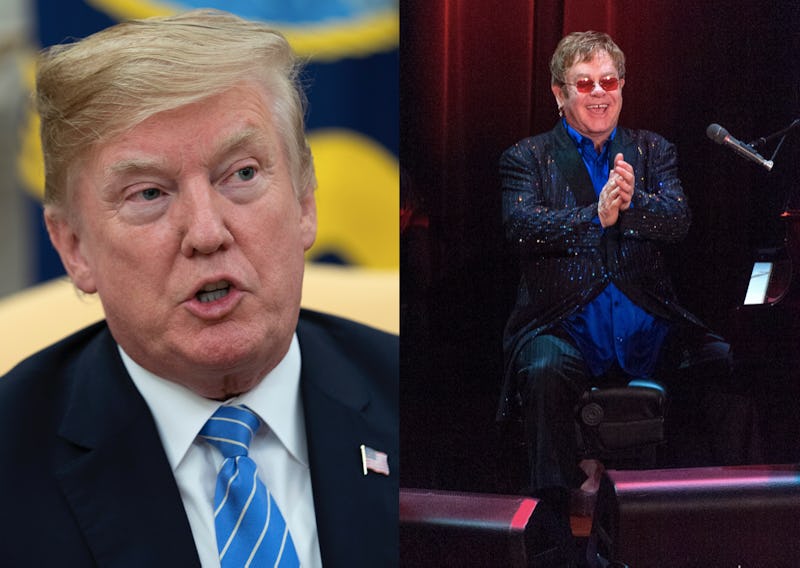 Pool/Getty Images News; D Dipasupil/Getty Images Entertainment/Getty Images
What do you bring the dictator you hope to denuclearize? Well, if you're a member of the Trump administration, the answer is apparently an Elton John CD. But not just any Elton John CD will do. Secretary of State Mike Pompeo has reportedly brought North Korean leader Kim Jong Un Elton John's "Rocket Man" CD, according to a South Korean media outlet.
You may recall that Trump dubbed Kim "Rocket Man" last September while exchanging insults and threats with the North Korean leader. He used the moniker repeatedly as tensions between the two countries escalated. The nickname was apparently brought up for discussion when the two leaders met in Singapore in June, South Korean media outlet The Chosun Ilbo has reported.
"Trump then asked Kim if he knew the song and Kim said 'no,'" a Washington-based diplomatic source told The Chosun Ilbo.
Remembering the conversation, Trump reportedly signed a CD that had Elton John's 1972 hit "Rocket Man" on it and told Pompeo, who arrived for a two-day visit in Pyongyang on Friday, to gift it to Kim. It was unclear from The Chosun Ilbo's report whether Pompeo had brought Kim a copy of Honky Château, the album the song originally appeared on, a hits compilation, or merely the "Rocket Man" single.
According to NBC News, Pompeo laughed but would neither confirm or deny the report when reporters asked about it after he landed in Pyongyang on Friday. NBC News also reported that it was unclear whether his North Korea visit would include a meeting with Kim. A spokeswoman for Pompeo told reporters the secretary of state sought to use this visit — his third since April — "to fill in some details on these [denuclearization] commitments and continue the momentum towards implementation of what the two leaders promised each other and the world."
According to The Chosun Ilbo, Trump's "Rocket Man" CD offering was meant as a reminder that he expects Kim to honor his pledge to denuclearize North Korea. Although no specific deal emerged from the president's summit with Kim in June, it was reported that the two leaders had agreed to "work toward" denuclearization. A joint statement signed at the summit by Trump and Kim said the United States would make unspecified "security guarantees" in exchange for Kim's commitment to the "complete denuclearization of the Korean Peninsula."
But no specific deadline or time frame was outlined in that statement and recent reports from U.S. intelligence agencies claim North Korea is already considering ways to conceal key information about its nuclear program from the United States.
According to a recent report from NBC News, U.S. intelligence officials believe North Korea has secretly increased its production of enriched uranium, a type of nuclear weapon fuel. Intelligence officials also recently told The Washington Post they believed Kim had no plans to surrender all of his nuclear stockpile but was instead looking for ways to hide just how many nuclear weapons and production facilities he had amassed.
While Trump initially took an overtly confident tone following his summit with Kim, tweeting that "there is no longer a Nuclear Threat from North Korea" upon his return from Singapore, he's recently admitted to the possibility that denuclearization efforts could fail.
"I made a deal with him, I shook hands with him, I really believe he means it," Trump said last Sunday in an interview with Fox News. "Now, is it possible? Have I been in deals, have you been in things where, people didn't work out? It's possible."
Perhaps Trump's latest reported gift to Kim is proof he worries it will, as Elton John sings, "be a long long time" before we see the denuclearization of the Korean Peninsula.