Trump Stayed Off The Golf Course Out Of Respect For Florida Victims (For 2 Days)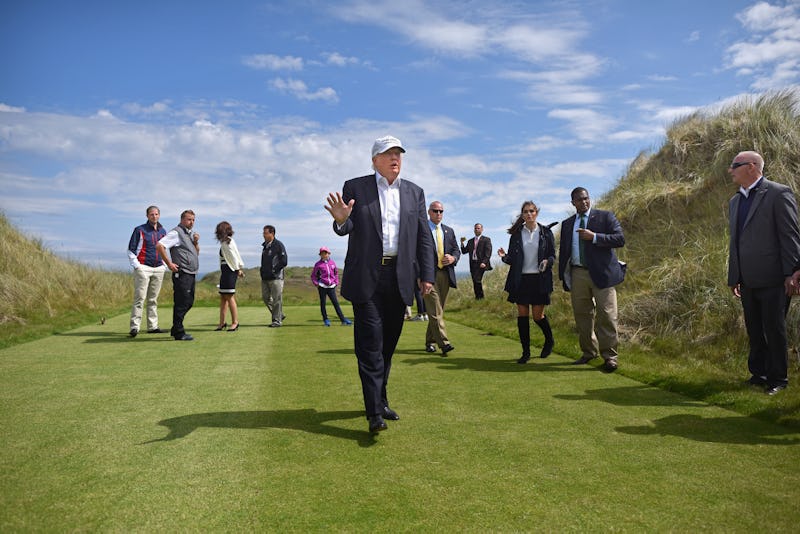 Jeff J Mitchell/Getty Images News/Getty Images
On Monday morning, the president visited Trump's golf course three days after meeting student victims of the Parkland, Florida shooting. Trump was at the Trump International Golf Club in West Palm Beach, according to The Hill.
The president is known for his frequent trips to the course where he can be seen playing on the fields. According to White House aides who spoke with The Hill, Trump refrained from playing on the weekend out of supposed regard for the 17 victims of the Parkland shooting but he ultimately resumed his golf visit on Monday morning around 9 a.m.
In the days following the shooting, the president has been on the receiving end of criticism and demands for definitive action on sensible gun laws. On Wednesday, authorities reported that a shooter opened fire on members of the Marjory Stoneman Douglas High School. Among the 17 killed were teachers and students, including a coach and athletic director. Some of the victims were as young as 14.
On social media, Twitter users took notice of Trump's visit to his golf course; activist and entrepreneur Michael Skolnik said that it was "absolutely disgraceful that @realDonaldTrump is playing golf today at his West Palm Beach country club, while 15-year-old Luke Hoyer's funeral is happening just 50 minutes away." Hoyer was one of the younger victims of the Parkland massacre.
According to ABC News, his funeral was held in Coral Springs, Florida, which is an hour away from West Palm Beach.
One of the survivors of the shooting, Marjory Stoneman Douglas student David Hogg commented on Trump's golf course visit and said, "This is atrocious, golf over children's blood?!?! What does that say about our future. You are either for or against the children and right now you're against them. This is why we must take action because these politicians won't." Hogg, who is also a student reporter at his school, directly tagged Trump in his tweet.
Trump's golf course visit came under heavy criticism amid reports of a White House schedule that states the president will meet surviving students and teachers on Wednesday. What Trump intends on discussing during such a sensitive meeting is still unclear. But so far, Trump has avoided discussing gun legislation and access in the country.
After the shooting, the White House released Trump's statement on Thursday in which he said, "I want to speak now directly to America's children, especially those who feel lost, alone, confused or even scared: I want you to know that you are never alone and you never will be." The president's statement went on to say, "You have people who care about you, who love you, and who will do anything at all to protect you. If you need help, turn to a teacher, a family member, a local police officer, or a faith leader. Answer hate with love; answer cruelty with kindness."
Trump did not comment on the report from authorities that the shooter possessed an AR-15-style rifle which he legally purchased last year.
It wasn't only Trump's visit to this golf course that angered observers online recently. On Saturday, Trump tweeted, "Very sad that the FBI missed all of the many signals sent out by the Florida school shooter. This is not acceptable. They are spending too much time trying to prove Russian collusion with the Trump campaign - there is no collusion. Get back to the basics and make us all proud!"
Surviving students of the shooting lambasted the president and said he was being selfish. One survivor student said, "Oh my God. 17 of my classmates and friends are gone and you have the audacity to make this about Russia???!! Have a damn heart." She added, "You can keep all of your fake and meaningless 'thoughts and prayers.'"