Trump's Dispersement Of Ethics Waivers Should Concern You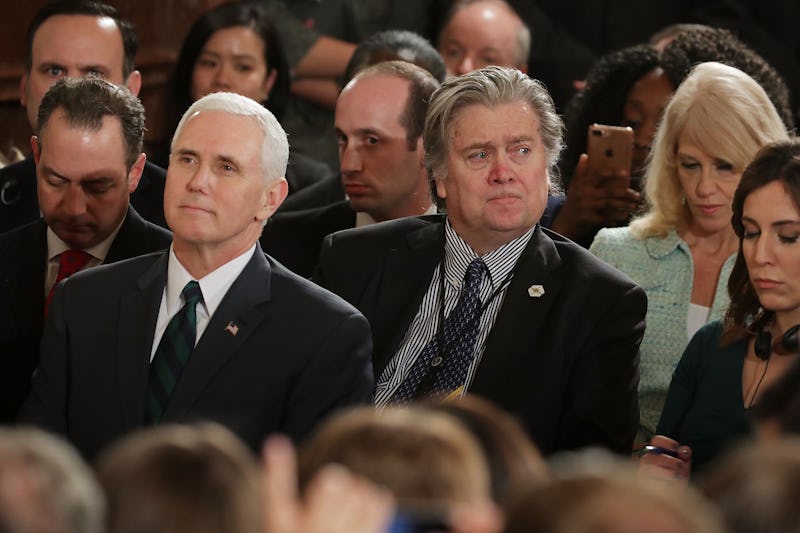 Chip Somodevilla/Getty Images News/Getty Images
Despite promising to "drain the swamp" by remedying corruption in Washington, Donald Trump has provided ethics waivers to many staffers. The president's executive order on ethics has, in other words, been waived up to 17 times since his inauguration in January.
According to Politico, Trump's executive order on ethics aimed to limit lobbyists' role in the Trump administration, as well as restrict government employees' work for former clients or employers. Trump signed this order at the very beginning of his presidency to make good on his promise to "drain the swamp," but he has since granted ethics waivers to senior staff members, former lawyers, and former lobbyists.
A document released by the White House on Wednesday named Kellyanne Conway and Reince Priebus as two recipients of ethics waivers. According to the document, Conway's waiver permits her to "participate in communications and meetings involving former clients which are political, advocacy, trade, or non-profit organizations." Politico reported that Conway can consequently still engage with her polling firm, The Polling Company/WomanTrend, to service clients including American Conservative Union and Americans for Prosperity.
Meanwhile, Priebus — Trump's chief of staff and former chairman of the Republican National Committee — is still allowed to "participate in communications and meetings involving the Republican National Committee" thanks to the ethics waiver he received.
Some waivers permitted former lawyers to communicate with their law firms, while others enabled former lobbyists to focus on subjects on which they previously worked. For example, Michael Catanzaro, a former oil and gas lobbyist, is now able to help the Trump administration shape its environmental policies.
A broader waiver stated that White House aides could "participate in communications and meetings with news organizations on matters of broad policy" — even if a former employer or client was involved. This waiver — though it did not actually name him — retroactively prevents Steve Bannon from being ethically implicated for continuing to contact people who work for Breitbart News, where he was an executive.
In a statement released on Wednesday, White House spokeswoman Lindsay Walters said that the public disclosure of the waivers was an act of transparency, and that there were a "limited number" of ethics waivers issued.
"The White House Counsel's Office worked closely with all White House officials to avoid conflicts arising from their former places of employment or investment holdings," Walters said in her statement. "To the furthest extent possible, counsel worked with each staffer to recuse from conflicting conduct rather than being granted waivers, which has led to the limited number of waivers being issued."
However, ethics watchdogs do not agree with the White House's position on the matter. Noah Bookbinder, the executive director of Citizens for Responsibility and Ethics in Washington, told Politico that the numerous ethics waivers granted were proof that the Trump administration is not particularly concerned about ethics:
The ethics waivers the White House finally released reveal what we already suspected: that this administration is chock full of senior officials working on issues on which they lobbied, meeting with companies in which they have a financial interest, or working closely with former employers. No one has believed for months that this president or his administration had any interest in ethics, but these waivers make clear the remarkable extent to which they are comfortable mixing their own personal interests with the country's. It's no wonder they waited for the cover of night to release them.
As Rebecca Ballhaus pointed out in the above tweet, Trump has issued far more ethics waivers in the first four months of his administration than former President Barack Obama did during the same time period. Moreover, the waivers may not have been publicly disclosed had the Office of Government Ethics not issued a "data call" for all waivers issued by all government agencies. The White House finally agreed to comply with this data call last week, and publicly released the waivers list right before the June 1 deadline.