Trump Impeachment Memes & Tweets Are Taking Over Twitter Right Now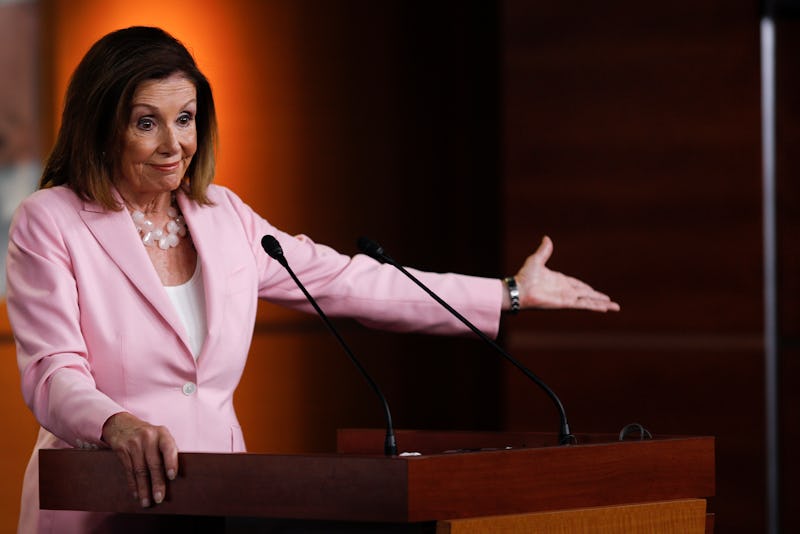 Tom Brenner/Getty Images News/Getty Images
On Tuesday evening, House Speaker Nancy Pelosi made an announcement heard round the world. She confirmed that the House would begin a formal impeachment inquiry against President Donald Trump, accusing him of betraying his office and the nation's security. And naturally, Trump impeachment memes and tweets began rolling in on Twitter pretty much immediately.
The announcement comes days after news of a phone call between Trump and the President of Ukraine. According to senior administration officials, the Washington Post reported, Trump allegedly pushed the foreign leader to investigate Joe Biden's son, Hunter, during the call. Trump has denied these accusations, and said he plans to release the full transcript of the phone call on Wednesday,
Following Pelosi's press conference on Tuesday, Trump quickly took to Twitter to categorically deny all of the claims she made against him, and to condemn the impeachment inquiry as a whole. In the first of a series of tweets, he wrote, "Such an important day at the United Nations, so much work and so much success, and the Democrats purposely had to ruin and demean it with more breaking news Witch Hunt garbage. So bad for our Country!"
In a subsequent tweet, he called the impeachment inquiry "A total Witch Hunt Scam by the Democrats!"
It's highly likely that impeachment talk will dominate the airwaves and cyber-waves throughout the entire process. So if it starts to feel too heavy for you, or if you need a break from all of the news, it might help to lighten the mood with a few memes and tweets: