This Prof Argues That Trump Is Closer To Impeachment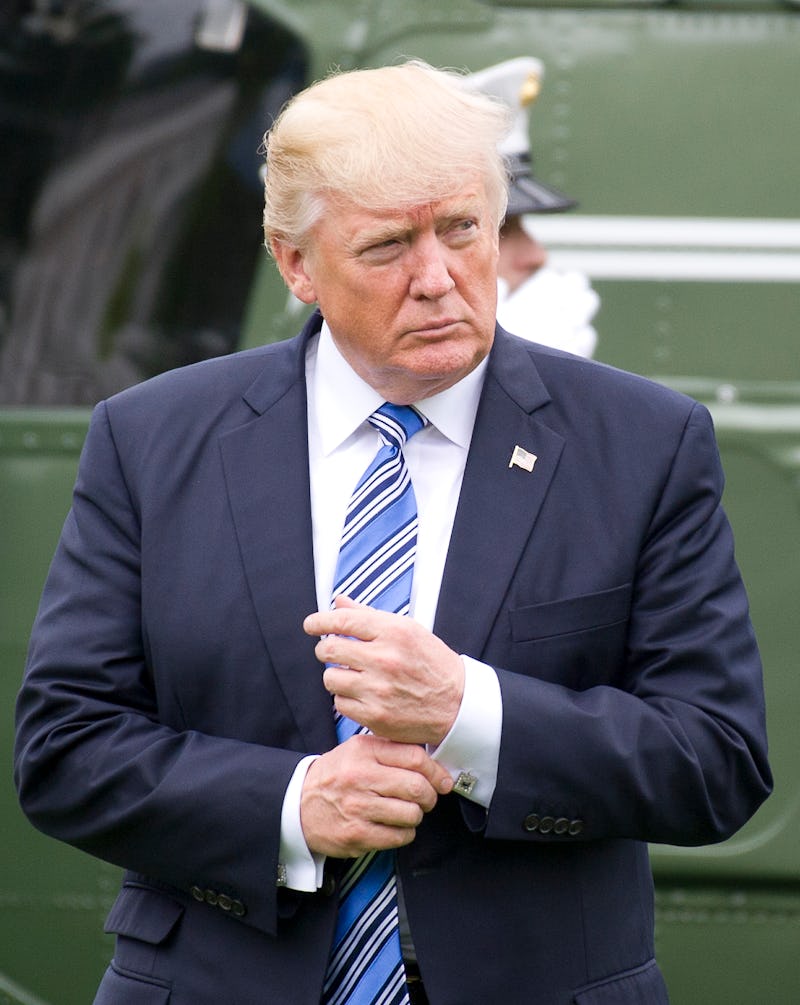 Pool/Getty Images News/Getty Images
The professor who predicted Donald Trump's win — capping off a streak of correctly calling every presidential election since 1984 — now believes that President Trump could ultimately be impeached. Following the week of upheaval in Washington, the president is closer than ever, and in an interview with Newsweek on Friday, Allan Lichtman said Trump's impeachment could arguably happen now.
Given that Lichtman has written a book on the matter entitled The Case for Impeachment, his view that Trump will eventually be impeached is not a surprise: He's given a number of interviews on the matter following the April launch of his book. But what is notable is that Lichtman sees Trump's actions this week, namely the firing of FBI Director James Comey, as "much more serious" than Watergate:
We see credible reporting that he may well be guilty of obstructing justice in the FBI investigation, first by demanding loyalty to him personally from the man investigating him. That's pretty blatant obstruction of justice. And then by firing director Comey and then in effect lying initially, or having his team lie in his direction, about the reasons for the firing.
Trump fired Comey on Tuesday, initially arguing that it was based on the recommendation of Deputy Attorney General Rod Rosenstein. The White House press team spent the next few days pushing that narrative, with Press Secretary Sean Spicer infamously doing so while hiding among the bushes with the lights out. That, however, was all turned on its head when Trump admitted to Lester Holt in an interview with NBC News that he had planned to fire Comey regardless of recommendation.
Trump detailed conversations with Comey in which the former FBI director allegedly assured Trump he was not under investigation. But then Comey associates countered with another version. They claim Trump had pushed for Comey's loyalty. Trump denies that version of events, but doesn't see anything wrong with it, either.
All of that means Trump "arguably could be impeached now," Lichtman told Newsweek: "Arguably he's already obstructed justice and already violated the emoluments clause. I'm not saying we should impeach him now, I'm calling for an impeachment investigation."
Only two presidents in the last century have gotten close to impeachment. One was Richard Nixon and the other was Bill Clinton. "The only parallel is Watergate, and this is much more serious," Lichtman told the magazine. "What Trump is involved in is more serious because it involves a foreign power and the national security of the country."
But don't hold your breath. Even Lichtman sees a version in which Trump gets away with it: "Throughout his business career, Donald Trump was the master of avoiding accountability," Lichtman said. "If he is true to his M.O. of more than 40 years, he may avoid accountability again by resigning. After all, it's not like he goes back to some hovel out there in the woods."
Nixon famously resigned instead of facing his impeachment proceedings, too.