Trump Is Livid That Rex Tillerson Didn't Deny Calling Him A "Moron" — REPORT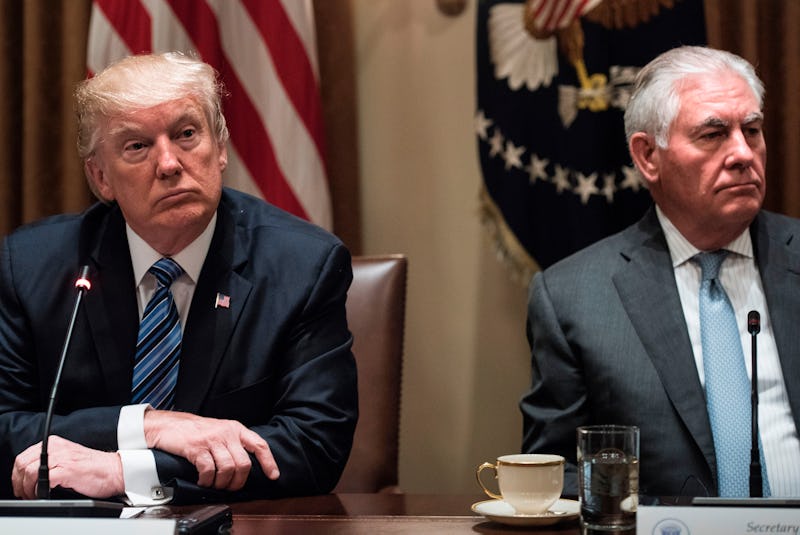 BRENDAN SMIALOWSKI/AFP/Getty Images
On Oct. 4, NBC News reported that Secretary of State Rex Tillerson had described President Trump as a "moron" and had to be talked out of resigning from his post by Vice President Mike Pence. Tillerson then issued an unscheduled statement to reporters, refuting that he tried to step down from his position. However, Tillerson failed to deny that he called Trump a moron and Trump is now furious, according to NBC.
Tillerson's refusal to deny that he called Trump a "moron" and several of his responses to reporters "stoked Trump's anger" and "widened the rift between the two men," officials said, according to NBC. Trump reportedly "fumed" to Chief of Staff John Kelly for two hours after he saw the original report. One White House official told NBC News, "When Tillerson didn't deny it, I assumed it was true."
During the Wednesday press conference, Tillerson denied that he had to be persuaded by Pence to stay on as secretary of state. "I have never considered leaving this post," he said. Although Tillerson praised Trump's foreign policy and called the president "smart," he didn't directly refute the claims that he had called Trump a moron.
"I'm not going to deal with petty stuff like that," Tillerson said. "I'm just not going to be part of this effort to divide this administration."
Tillerson reportedly threatened to resign after a July 20 national security meeting at the Pentagon. Tillerson had described Trump as a "moron" after the president delivered a highly politicized speech to the Boy Scouts of America, which Tillerson once led, according to NBC. Pence reportedly advised Tillerson to ease tensions with Trump in private, while other administration officials urged Tillerson to stay on until the rest of the year.
Trump responded to Tillerson's remarks and blamed the story on the "fake news media" while he toured the University Medical Center in Las Vegas on Wednesday. The president said, "I am very honored by his comments, it was fake news, it was a totally phony story." Trump then continued that he has "total confidence in Rex," according to NBC. Trump also tweeted, "The @NBCNews story has just been totally refuted by Sec. Tillerson and @VP Pence. It is #FakeNews. They should issue an apology to AMERICA!"
Trump is reportedly entertaining the idea of replacing Tillerson with CIA Director Mike Pompeo, Axios' Mike Allen reports. Trump is apparently "quite comfortable" with Pompeo, who currently delivers the President's Daily Brief, according to Trump's advisers. Pompero is also "one of the few in the administration who knows how to convey tough news to the president." White House insiders say that "Trump's relationship with Tillerson is broken beyond repair" and that "few in the White House think it can be rebuilt."
Political scientist Ian Bremmer noted on Twitter that Tillerson is "not expecting to be there long" and has started referring to Jared Kushner and Ivanka Trump as "the royal family."
Trump has previously undermined Tillerson's efforts with North Korea. Tensions between the president and North Korean leader Kim Jong-Un have escalated after September when Trump said the nation would be met with "fire and fury" if North Korea threatened the United States with nuclear weapons. One day after Tillerson said that the U.S. government had "lines of communication" to North Korea, Trump told the secretary of state, "Save your energy."
"I told Rex Tillerson, our wonderful Secretary of State, that he is wasting his time trying to negotiate with Little Rocket Man," Trump wrote in one tweet. "Save your energy Rex, we'll do what has to be done!"
One day before, Tillerson had addressed the tensions with North Korea. "We have lines of communications to Pyongyang," he said, according to CNN. "We're not in a dark situation."