Trump Jr. Is Apparently Looking To Start His Own Twitter Feud With Adam Rippon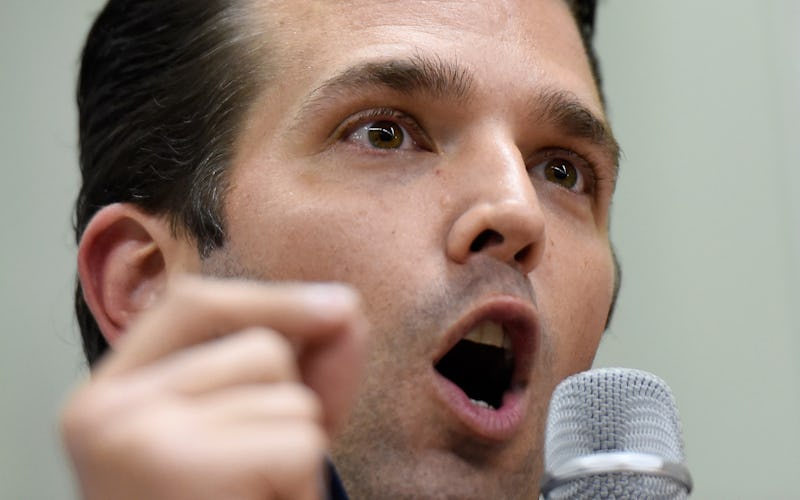 David Becker/Getty Images News/Getty Images
As is his habit, Donald Trump Jr. used Twitter to mount snarky defenses of the Trump administration on Wednesday. This time Trump Jr. attacked Adam Rippon for the Olympic figure skater's ongoing dispute with Vice President Mike Pence. It apparently rubbed the president's oldest son the wrong way when Rippon told CNN that he doesn't want his feud with Pence to overshadow the games.
"I don't want my Olympic experience being about Mike Pence," Rippon said to CNN on Tuesday. In response, Trump Jr. tweeted, "Really? Then Perhaps you shouldn't have spent the past few weeks talking about him. I haven't heard him mention you once???"
Rippon, who is gay, has criticized Pence for his anti-LGBT agenda and stated that he has no desire to meet with the vice president at the PyeongChang games. "If it were before my event, I would absolutely not go out of my way to meet somebody who I felt has gone out of their way to not only show that they aren't a friend of a gay person but that they think that they're sick," he told USA Today.
But Rippon has also said several times that he wants the media's focus to stay on the Olympics, as opposed to his drama with Pence. "I don't want to make this too much for my competitors and for my teammates," he told reporters last week. "I'm just kind of focused on the competition. The opening ceremony is tomorrow. I don't mind talking about it but I don't want to distract my teammates." Despite Rippon's wishes, the feud keeps making headlines. Because people are interested in it, reporters keep asking about it, perpetuating the whole cycle.
Don Jr.'s claim that Rippon has "spent the past few weeks talking about" Pence is misleading. To the extent that Rippon has been talking about the vice president, he seems to have mainly been responding to reporters' questions. And his Pence-related comments may be just a small percentage of what he's said to journalists. He doesn't have control over what they decide to publish, of course.
That's not the only way in which Don Jr.'s tweet gets it wrong: Pence has been talking about Rippon recently. Just last week he took to Twitter to call some of the stories about his feud with Rippon "fake news" and address the figure skater directly, saying, "@Adaripp I want you to know we are FOR YOU. Don't let fake news distract you. I am proud of you and ALL OF OUR GREAT athletes and my only hope for you and all of #TeamUSA is to bring home the gold. Go get 'em!"
Pence's tweet came after reports that he had asked Rippon to meet with him to smooth over their squabble. Rippon apparently refused the meeting, though the vice president's office later walked back the invitation, saying that it had been "offering — not requesting" the appointment.
Rippon and skier Gus Kenworthy became the first openly gay U.S. athletes to participate in any iteration of the Winter Olympics this year. At 28 years old, Rippon is also the oldest U.S. figure skater to have qualified for the games as a rookie in more than 80 years. So far at PyeongChang, Rippon has won a bronze medal for his free-skating routine, coming in second to Canada's Patrick Chan and Russia's Mikhail Kolyada on Monday.
"This is the moment I've been waiting for my entire life," he said to TIME after the event. "Now I am actually an Olympian. They have footage, they can pull it up. Let the record show that Adam Rippon is an Olympian."
Rippon's final competition is the men's single skating short program, which will take place on Friday.