This Latest Photo Of Don Jr. & Kim Guilfoyle Shows They're Having A Blast In Paris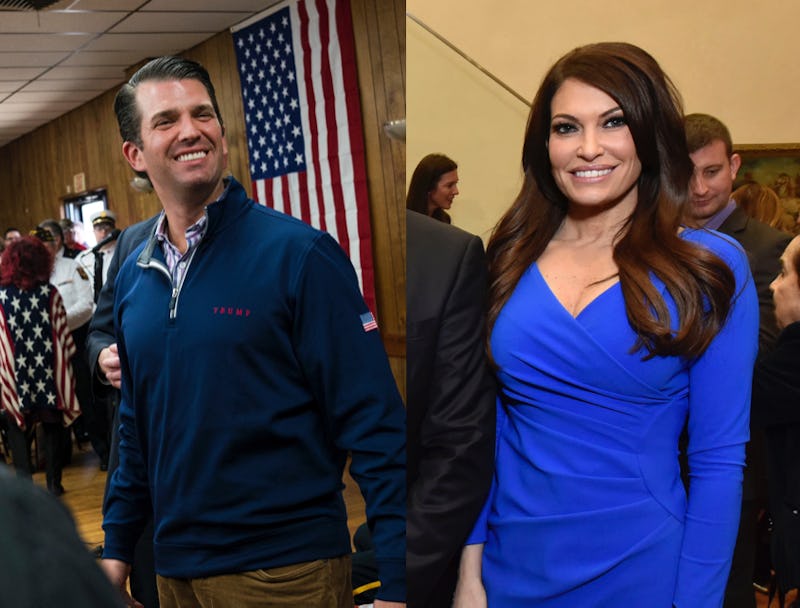 Drew Angerer/Getty Images News; Eugene Gologursky/Getty Images Entertainment/Getty Images
Since it's the city of love, it follows that Kimberly Guilfoyle and Donald Trump Jr. are in Paris together this week, according to a tweet Guilfoyle posted of herself and Trump in front of the Louvre. Guilfoyle and Trump have been in a public relationship since June, in the wake of Trump's divorce with ex Vanessa Trump. Though Trump didn't post any pictures of his own to social media, he did take the time to re-tweet her post.
Reports that Trump and Guilfoyle were dating first started trickling out in May, and they've managed to squeeze in a number of public appearances together since then. They first went public on June 22, when they attended a party hosted by Metropolitan Magazine. At the party, a source reportedly told Page Six that Trump and Guilfoyle looked "every bit the smitten couple".
From there, the relationship skyrocketed into the social media universe, with Trump posting a series of pictures of himself and Guilfoyle in Big Sky, Montana. They were shooting guns in the pictures, with Trump praising Guilfoyle's shooting abilities.
Trump wrote, "Oh oh I think we have a natural. From 22 LR to 6.5 Creedmoor to 375 ELR at 2000 yards @kimberlyguilfoylewas on point this weekend in Montana... she didn't miss a target! She also had a bit of a lead foot and addiction to the mud with the Razor. 😂🇺🇸😂🇺🇸😂 good times."
In another set of photos Trump and Guilfoyle were fly fishing, but their reason to visit Montana wasn't just for pleasure. Trump had to make an appearance at the Republican Convention in Montana, as well.
Trump and Guilfoyle also spent the Fourth of July together, taking part in White House festivities. Once again, Trump took to Instagram to display his relationship, posting a series of pictures of himself, Guilfoyle, and his father at the White House.
Trump wrote, "A very Happy 4th of July to everyone! It was great meeting all the veterans and active duty service members visiting the White House! Today is America's birthday, and we are making it GREAT again! #fourthofjuly#weekend#usa"
Though Trump's ex Vanessa Trump stayed quiet about his new relationship for the first few weeks, she finally broke her silence to defend her ex-husband, after some people began to call on Fox News to fire Guilfoyle.
Vanessa Trump tweeted, "The lengths people will go to attack a woman simply because she's dating Don. We've been separated for over 9 months and respect each other's decisions & privacy. We'll focus on raising our great kids. Would be nice if the press did the same rather than obsess over our pvt lives!"
But it's not just Trump's ex who supports his new relationship. First Lady Melania Trump has reportedly become good friends with Guilfoyle. According to Hollywood Life, Melania Trump and Guilfoyle reportedly "instantly clicked" when they met and bonded over their modeling careers and their son's similar ages.
In addition to Melania and Vanessa Trump, the president himself reportedly respects Guilfoyle so much that he almost appointed her as press secretary, according to People. The plan reportedly fell through because she was under a long-term contract with Fox News, though Guilfoyle told The Mercury News that she would have been honored to accept the job, if it had been offered.
The president has also endorsed Guilfoyle's book, Making the Case, which reportedly teaches women how to be "their own best advocates in business and in life."
He tweeted of her book, "Required reading 4 success in politics & life read @kimguilfoyle's book #MakingTheCase. Brilliant Advice !"