People Can't Stop Making Memes Of Don Jr. & Mueller At The Same Airport Gate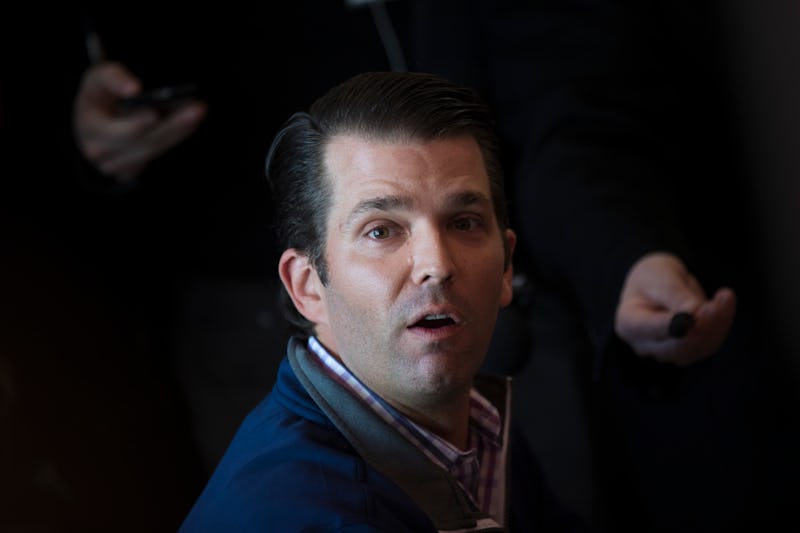 Drew Angerer/Getty Images News/Getty Images
The Internet lost its mind Friday when Politico published a picture of a Donald Trump Jr. and Robert Mueller waiting at the same airport gate in Washington D.C. This sparked frenzied speculation as to what their chance encounter was like, and unsurprisingly, a flood of Trump Jr. and Mueller memes quickly followed.
After Politico published the photo, both men confirmed that it was indeed them in the picture. Trump Jr. told the Daily Mail that he "didn't notice" Mueller there," while a spokesperson for Mueller told ABC News that the special counsel "was not aware of [Trump Jr.] and had no interaction with him." It's unclear whether or not they were boarding the same flight.
Mueller and Trump Jr. are both central figures in the Justice Department's investigation into Russian meddling in the 2016 election and possible obstruction of justice by President Trump: Mueller is leading that investigation, while Trump Jr. is reportedly a focus of it.
As many noted, the encounter took place at Gate 35X, a widely-loathed gate at Reagan National Airport. Passengers assigned to flights through Gate 35X must first take an escalator, then wait in the cramped and dimly-lit gate for a shuttle bus to arrive; the shuttles, also small and stuffy, then transports passengers to their plane. Over 5,000 commuters travel through Gate 35X every day, according to the Washington Business Journal.
The sight of Trump Jr. and Mueller in such close proximity in such a mundane environment sparked countless memes of the two men.