Trump Could Be Coming For Tourists' Passwords Next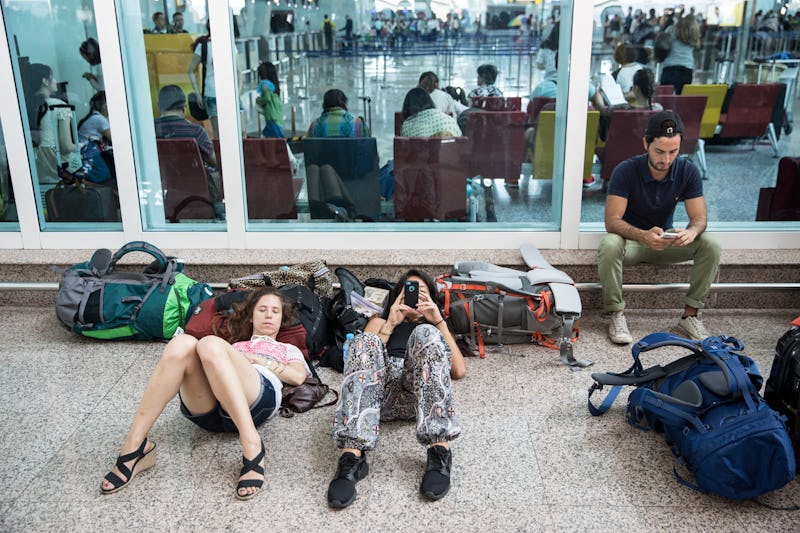 Agung Parameswara/Getty Images News/Getty Images
The latest move in a series of proposed controversial measures from the Trump administration would hit tourists in a particularly sore spot — their online privacy. Trump administration officials said they may require visitors to share social media passwords and disclose other personal information — like contacts, financial records and ideological information — before entering the United States, The Wall Street Journal reported, as part of the so-called "extreme vetting" policies President Trump endorses.
According to the Journal, the administration might also require that embassies interview visa applicants — who also come from countries like France or Germany — with more scrutiny. Gene Hamilton, senior counselor to Homeland Security Secretary John Kelly, explained the administration's reasoning to the publication:
If there is any doubt about a person's intentions coming to the United States, they should have to overcome — really and truly prove to our satisfaction — that they are coming for legitimate reasons.
It's an idea that was floated earlier this year and it's still something that has cyber-security advocates feeling uneasy. Although current laws allow custom agents to physically inspect items entering the country, they are still technically unable to engage in "unreasonable searches" under the Fourth Amendment.
However, border agents already are frequently given a fairly broad authority when it comes to searching devices and detaining individuals at the border. Just as they are allowed to search through your suitcase without a warrant, they generally do the same with electronic devices. As The New York Times noted in February, agents can already seize devices for weeks at a time and copy data from devices.
Even so, the announcement also raises eyebrows because it could potentially affect visitors from the 38 countries in the Visa Waiver Program (like longtime American allies France, Germany, and Australia) that lets citizens travel to the United States for up to 90 days without a visa. Paired with the trend of "declining interest" in visiting the United States (per several testimonies compiled from countless online travel companies and research firms from The New York Times) following Trump's other "America First" immigration policies, this proposal could certainly end up being a bummer for the industry that brought in $1.56 trillion and created 7.6 million jobs in the United States in 2015.
While this password proposal is not that much of a leap from what border agents are already able to do, further codifying anti-immigrant and xenophobic sentiments could very easily create more problems than it prevents.