Trump Met The French First Lady & You Already Know What Happened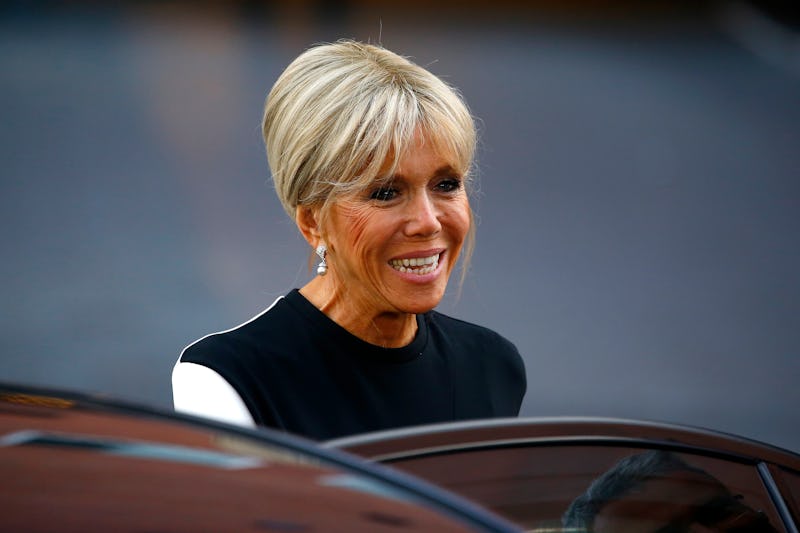 Morris MacMatzen/Getty Images News/Getty Images
During a meeting with French President Emmanuel Macron, President Trump said Macron's wife was "beautiful" and complimented her for being in "such good shape." The two leaders met in France as part of a Bastille Day Celebration, with Brigitte Macron and Melania Trump in attendance, as well. Trump first initiated an extended handshake with Brigitte, pulling her close to him and giving her a kiss on both cheeks. Then, the four went inside, and Trump began praising the French first lady's physical appearance.
"You're in such good shape," the Trump said, eyeing Brigitte up and down. He then turned to Macron and said, "She's in such good physical shape," to which the French leader replied, "Yeah."
"Beautiful," Trump added.
This isn't the first time Trump has publicly commented on a female political figure's public appearance. During the presidential campaign, he dismissed the chances of his primary opponent Carly Fiorina, on the grounds that she didn't have "the face of our next president."
"Look at that face!" Trump said in an interview with Rolling Stone. "Would anyone vote for that?" Later in the campaign, Trump said that Hillary Clinton wouldn't be an effective president because she doesn't have a "presidential look."
Trump first met Macron in May, shortly after the French president was elected. Although Trump is known for his bombastic handshakes, he shared an unusually tense, protracted handshake with Macron that received significant attention. Macron later remarked that his handshake with the U.S. commander in chief was "not innocent," and represented a "moment of truth."
"Donald Trump, the President of Turkey or the President of Russia are of a mindset of power relations, which doesn't bother me," Macron elaborated to a French newspaper. "I don't believe in diplomacy of the public invective but in bilateral dialogues. I don't let anything go. That's how one makes oneself respected."
Trump and Macron shook hands again on Thursday, and it was similar to their last handshake: firm, protracted, and tense. When he took Brigitte's hand, he immediately moved in for an embrace, grasping her shoulders and kissing her twice; then, the president returned to his classic handshake style, tugging her arm toward him and yanking it around wildly for several seconds before letting go.
Macron and Trump later shared the stage for a press conference, at which Trump praised the U.S.-French relationship extensively. Although the two leaders are diametrically opposed on many important political issues, Trump said that the bond between the two countries — as well as his personal friendship with Macron — is "unbreakable."