Trump Misspelled Melania's Name In A Tweet & Twitter Can't Get Over It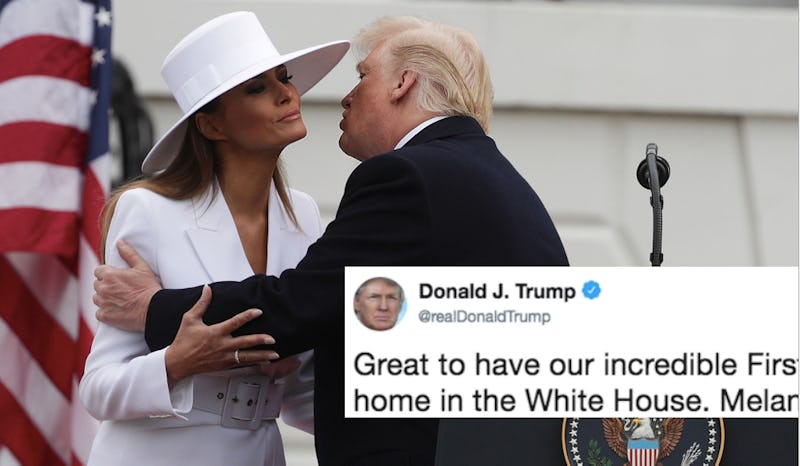 Alex Wong/Getty Images News/Getty Images
Many observers have pointed out Donald Trump's unconventional approach to governing throughout his time in the White House. Now, it appears that the president has also taken an unconventional approach in welcoming his wife Melania Trump back home after a short stint in the hospital. Trump misspelled Melania's name in a tweet welcoming her back home, before quickly deleting the tweet and replacing it with one that had the correct spelling. However, the tweet was up for long enough that Twitter took note — and came up with quite the range of reactions.
"Great to have our incredible First Lady back home in the White House," Trump tweeted on Saturday afternoon. "Melanie is feeling and doing really well. Thank you for all of your prayers and best wishes!"
The correct spelling of his Slovenian wife's name, of course, is Melania, ending with an "a" rather than an "e." Only four minutes after posting the original message, it had been deleted and replaced with one using the proper spelling.
CNN reported that Melania returned to the White House on Saturday morning after spending five nights at Walter Reed National Military Medical Center. On Monday, she was admitted for a kidney embolization procedure, and her spokesperson Stephanie Grisham said then that Melania would likely be spending the rest of the week in the hospital, according to CNN.
The length of her hospital stay left people curious about the status of the First Lady, and one Twitter user noted that the tweet did little to clear up the lingering questions. "Please let us know if you hear from Melania," the caption to a screenshot of Trump's original tweet read.
Another focused on the disappointment that any wife would feel, seeing her husband misspelling her name in such a public forum. This Twitter user posted a GIF of Melania's famous smile-to-frown moment at the inauguration, along with the caption "When your husband calls you 'Melanie' and that's not your name."
Yet another tied it in to a discussion currently rippling through the entire internet — Yanny, or Laurel? "In other news: It isn't Yanny or Laurel, it's Melanie!" he wrote, along with a screenshot of the tweet.
Another expressed the hope that the backlash to this one little typo might cause some good in the world. "I hope Melanie-gate inspires Trump to get Apple to do something about their out-of-control autocorrect software," wrote journalist Matthew Yglesias.
Statistics guru Nate Silver also weighed in on the autocorrect issue. "I'll probably get ratioed for saying this," Silver wrote. "But a lot of phone spell checkers there days are overaggressive and are going to autocorrect a less common name (e.g. Melania) to a more common one (e.g. Melanie) unless you're pretty careful about it. It's an understabable kind of typo." (And, yes, it's unclear whether "understabable" was an actual typo on Silver's part or a decidedly dad-joke way of pointing out how easy typos are to make.)
Yet another relied on the axiom that pictures are worth far more than words, posting the now familiar shot of Trump seeming to yell at a boy mowing the lawn with a short caption: "Have you met my wife Melanie?"
Trump is certainly no stranger to the Twitter typo, but this one differs from the pack for a couple of reasons. First of all, instead of referring to something like the Democrats or the economy, it refers to his life partner. Secondly, he actually made the effort of deleting the original tweet and replacing it with one that had the correct spelling. This has happened only rarely, and it's led to such memorable words as "covfefe." Trump may have deleted the original "covfefe" tweet — but the word was already embedded in Twitter's collective heart and mind. Perhaps this mysterious Melanie will find a similar spot.