Trump's "Covfefe" Tweet Has Inspired Some Amazing Definitions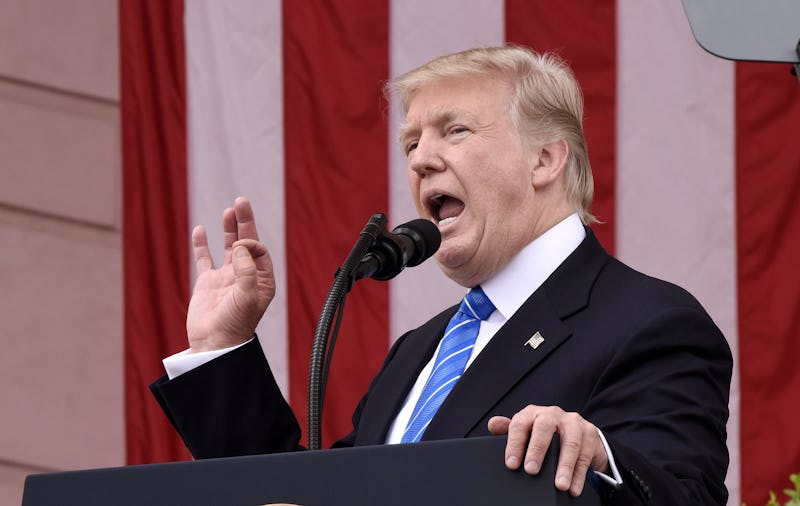 Pool/Getty Images News/Getty Images
If you're wondering what "covfefe" means, Twitter has you covered. President Trump's latest gaffe, introduced in the curious tweet "Despite the constant press covfefe," has inspired a wave of interesting interpretations.
In reality, "covfefe" is probably a typo of "coverage," and one can only imagine how the tweet came to be: Trump likely started typing something incendiary, got distracted by a claim made on cable TV, and then fell asleep before finishing the tweet — or something. That's the most plausible explanation here, but Twitter did what it does best — it pounced on Trump's latest tweet and delved into a rabid exploration of the newly-coined term.
It quickly became one of the president's most widely shared tweet — a high bar to clear, considering his active Twitter presence. Some stayed up all night waiting for Trump to delete the post, which he finally did around 6 a.m., but the damage was already done. And for once, Trump actually reacted like a somewhat normal person and tried to pass it off as a joke by tweeting next: "Who can figure out the true meaning of 'covfefe' ??? Enjoy!"
That was then followed by one of his regular tweet storms, which brought everyone crashing back to the real world and reminded us that "covfefe" isn't everything. But for a glorious few hours on the internet, it was — and here are some of that shining moment's best results.