Trump Is OK With Repealing Obamacare Now & Replacing It Later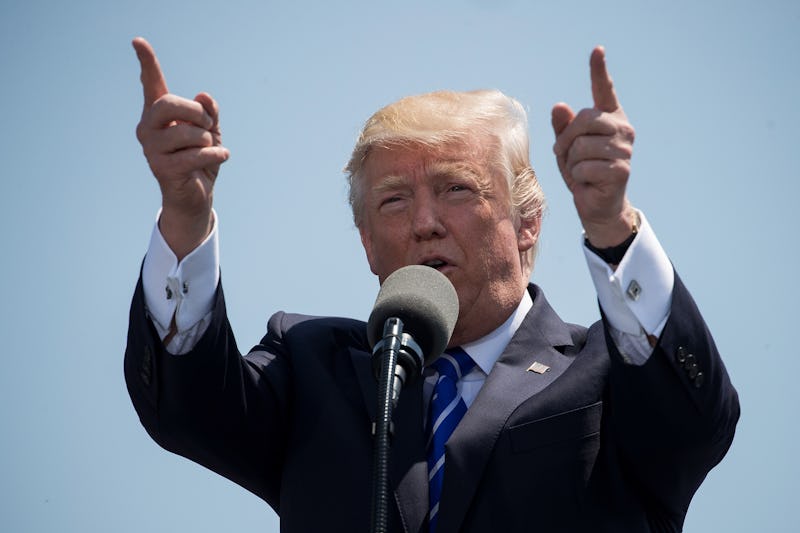 Drew Angerer/Getty Images News/Getty Images
Earlier this week, Senate Majority Leader Mitch McConnell postponed a vote on the GOP's proposed health care bill because the legislation hadn't garnered enough support. On Friday, in an abrupt gear-switch, President Trump tweeted Republicans should repeal Obamacare first, then replace it at a later date if the Senate GOP cannot come to an agreement.
The president's turnaround from his vocal support to repeal and replace the Affordable Care Act at the same time comes amid several Republicans' call for a repeal-then-replace strategy.
The GOP currently has a 52-seat majority in the Senate, and if more than two Republicans oppose the bill, it will not pass. Nine GOP senators said they wouldn't vote for the Senate's bill to replace Obamacare in its current form, which led to McConnell postponing the vote until after the July 4 recess. The bill's chances deteriorated quickly after it was released to the public, when the Congressional Budget Office revealed that it would result in approximately 22 million people losing their health insurance by 2026.
The GOP had been trying since January to execute a simultaneous repeal-and-replace plan, particularly because many Republican lawmakers — Kentucky Sen. Rand Paul prominent among them — did not want to slash Obamacare entirely without any alternative plan in the interim. Until recently, Trump agreed that simultaneously repealing and replacing Obamacare would be ideal.
But shortly after Nebraska Sen. Ben Sasse — a frequent Trump critic — appeared on Fox & Friends to advocate for two different pieces of legislation to repeal and replace Obamacare, Trump tweeted his agreement that Republicans should repeal it now and replace it later.
Sasse routinely criticizes Trump — most recently, he slammed the president for his comments about Mika Brzezinski — but in this case he tweeted that he and Trump "are agreed."
Trump's tweet also came just after Sasse wrote him a letter calling for an immediate repeal.
According to an unnamed source cited by Politico, Trump's policy shift is also the "direct result" of Arkansas Sen. Tom Cotton's perspective. Cotton told his colleagues in the Senate that they had to pass a repeal as soon as possible, especially now that they had a Republican president who would sign it into law.
It's unclear how many Republicans have come around to this strategy shift now that the party is reportedly mired in a stalemate about what to cut in its Obamacare replacement legislation.
The Senate will return from its recess on July 10, after which Republicans will have to decide whether they want to continue pushing the repeal-and-replace legislation or to take up a 2015 bill to gut Obamacare immediately.