What To Know About The Woman Trump Picked To Replace Kavanaugh On The DC Circuit Court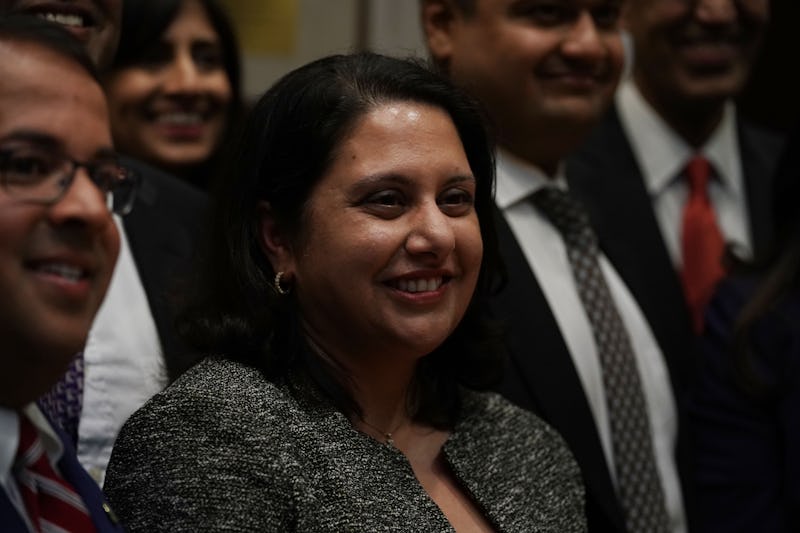 Alex Wong/Getty Images News/Getty Images
During a Diwali ceremony at the White House Tuesday, President Trump abruptly announced that he will nominate Neomi Rao to fill Brett Kavanaugh's seat on the D.C. Circuit Court of Appeals. Rao, who currently serves as the administrator of the Office of Information and Regulatory Affairs (OIRA), has clerked for several judges but has no judicial experience herself.
While announcing Rao's appointment, Trump facetiously denied that he was doing so, a tactic he occasionally uses to distance himself from his own remarks.
"I won't say today that I just nominated Neomi to be on the DC Circuit Court of Appeals, the seat of Justice Brett Kavanaugh," Trump said. "She's going to be fantastic — great person."
Before joining the Trump administration, Rao was an associate professor of law and the founding director of the Center for the Study of the Administrative State at George Mason University's Antonin Scalia Law School. A Republican, she clerked for Supreme Court Justice Clarence Thomas for a year in the early 2000s and later worked as counsel to George W. Bush and the Senate Judiciary Committee.
Rao's judicial philosophy is almost entirely unknown, given that she's never been a judge or issued any rulings. However, she's staunchly anti-regulation, and in both her writings and decisions as OIRA chief, has made it clear that she opposes the independence of regulatory agencies, such as the Consumer Financial Protection Bureau, and supports the president's power to dismiss the heads of such agencies at will and veto any rules they issue.
"The benefits of deregulation are felt far and wide, from lower consumer prices to more jobs and, in the long run, improvements to quality of life from access to innovative products and services," Rao claimed in an op-ed in the Washington Post in October. "Eliminating unnecessary and duplicative red tape has helped the Trump administration achieve the lowest unemployment rates in nearly 50 years and dramatic economic growth for our country."
Rao has argued that the Consumer Financial Protection Bureau, which now-Sen. Elizabeth Warren helped create as a check on big banks after the financial crisis of 2008, has too much independence from the president and, as a result, is unconstitutional. Elsewhere, she's written that "businesses should be left as free as possible to make decisions" and that regulatory agencies should be subject to more oversight by the courts.
As the D.C. Circuit Court of Appeals hears many regulatory and administrative cases, Rao will soon be in the position to put these views into practice from the bench.
Although Rao's opinions on matters other than regulation are largely a mystery, she's formed associations with many conservative figures and institutions during her career. In addition to her work for Thomas and Bush, she's a member of the Federalist Society, a conservative advocacy group focused on the legal and academic world, and has written for the Heritage Foundation, a conservative think tank.
Brett Hartl, the Center for Biological Diversity's government affairs director, criticized the appointment of Rao, telling BuzzFeed News that she "has never seen a regulation she didn't hate."
"As a judge [she] would dismantle 40 years of environmental and social progress," Hartl said in a statement. "Her confirmation would be the most damaging and regressive yet by Trump after Kavanaugh and Gorsuch."