It Looks Like Trump Used A Photo From A CNN Reporter He's Trashed To Hype His Rally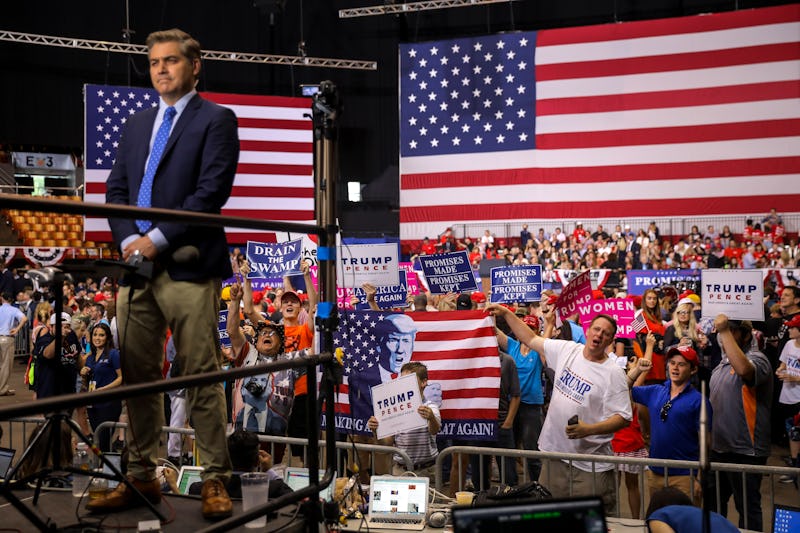 Drew Angerer/Getty Images News/Getty Images
In the hours leading up to his Pennsylvania rally, Trump posted a photo Jim Acosta reportedly took of a line of people waiting for the MAGA event. Trump has long been an active critic of Acosta, and has even refused to take questions from him during press conferences. What's more, he has repeatedly questioned the credibility and validity of CNN, where Acosta works. So it was certainly surprising to Acosta (and thousands of other Twitter users) when Trump repurposed one of his photos.
The picture in question was of the crowd of people waiting in line to attend Trump's rally in Erie, Pennsylvania. Acosta had originally tweeted the photo in the early afternoon, writing, "Big crowd lining up outside for Trump rally tonight in Erie, PA."
Three hours later, Trump tweeted what appeared to be the same exact picture, writing, "Couldn't let these great people down. They have been lined up since last night - see you soon Pennsylvania!"
Acosta then tweeted a few hours later, "This looks a lot like the pic I tweeted earlier today. (note the lady with the sunglasses in the left side of the photo)"
In a subsequent tweet, he added, "Life is funny." Then, Acosta felt the need to point out the comparison a third and final time, writing simply, "I believe in #realviews"
Though this is by no means the most surprising thing that Trump has done on the news platform, it does seem a little out of left field that he would source Acosta for anything, given how often the Trump administration has accused him and CNN of peddling false information.
Most recently, Acosta became embroiled in a feud with White House Press Secretary Sarah Huckabee Sanders in August over a claim that Trump had made about the press being "the enemy of the people." Sanders said to Acosta in front of a room full of reporters, "It's ironic, Jim, that not only you and the media attack the president for his rhetoric when they frequently lower the level of conversation in this country."
Acosta continued to needle Sanders for a direct answer on whether the Trump administration viewed the press to be the enemy of the people, and she eventually said:
I've addressed this question, I've addressed my personal feelings. I'm here to speak on behalf of the president. He's made his comments clear.
Trump has oscillated on his feelings for Acosta, tweeting that he was a "nice guy" in July and referencing him as "Crazy Jim Acosta of Fake News CNN" earlier in the year.
Acosta isn't the only reporter that Trump has tentatively recycled photos from: Jennifer Jacobs, a White House reporter for Bloomberg, tweeted that Trump had recycled her photos, too. What's more, he kind of mixed up the context of the photo in the process. She tweeted, "Trump tweets the photos I shot in my car in Iowa on Sunday and tweeted. My pictures show the four-page advertisement — disguised as a news section — that China paid for in the Des Moines Register criticizing Trump's trade moves."
Trump, in contrast, had tweeted, "China is actually placing propaganda ads in the Des Moines Register and other papers, made to look like news. That's because we are beating them on Trade, opening markets, and the farmers will make a fortune when this is over!"
Acosta continued to tweet about Trump's comments at the rally throughout the evening. At one point, he wrote, "Trump is talking about his election night victory while listening to chants of 'lock her up.' Reminder: it's 2018."