Trump Wants The FBI To Focus On Those Hillary Clinton Emails, Not Michael Cohen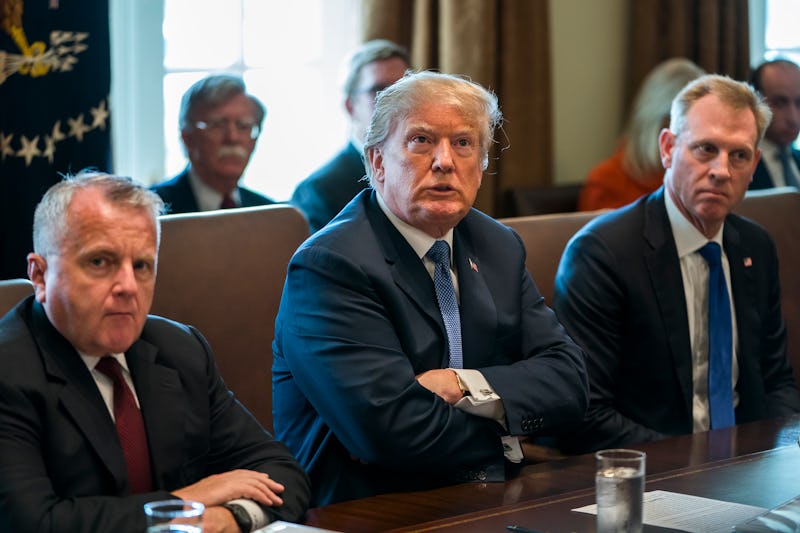 Pool/Getty Images News/Getty Images
Flanked by military leadership at a press conference on Monday, the president responded to news that FBI agents had raided his personal lawyer's office earlier that day. And his primary response was that the agency should be looking elsewhere. Instead of raiding Michael Cohen, Trump said Hillary Clinton should be under investigation.
"They're not looking at the Hillary Clinton, horrible things that she did and all of the crimes that were committed," Trump said of the FBI. "They're not looking at all of things that happened that everybody is very angry about, I can tell you, from the Republican side, and I think even the Independent side."
That wasn't his only reference to Clinton, either. A few moments later, according to a video recording of the press conference shared on CNBC, Trump lamented that "the other side" was not adequately examined by law enforcement. On the other side, he said, there are, "lies under oath all over the place. Emails that are knocked out, that are acid washed and deleted, nobody's ever seen. 33,000 emails are deleted after getting a subpoena from Congress, and nobody bothers looking at that."
The tens of thousands of emails Trump refers to are a portion of communications that Clinton's aides reportedly cleared from a private email server that she used as secretary of state. Trump remained fixated on the emails as a presidential candidate, and has periodically brought up the topic from time to time, long after beating Clinton in the race for the presidency.
In his response to the raid, Trump also referred directly to Special Counsel Robert Mueller's investigation into potential Russian interference into the 2016 presidential election, declaring that there was no collusion between his camp and the foreign power:
We've given, I believe, over a million pages worth of documents to the special counsel. They continue to just go forward and here we are talking about Syria, we're talking about a lot of serious things with the greatest fighting force ever, and I have this witch-hunt constantly going on, for over 12 months now, and, actually, much more than that.
In March, the House Intelligence Committee ended its investigation into whether the Trump campaign worked with Russia to influence the election, determining that there was no interference. However, despite the committee's conclusion, the Senate Intelligence Committee's own investigation continues still. Additionally, the Mueller investigation is still ongoing, and several Trump affiliates have faced criminal charges.
Throughout his remarks, Trump leaned backward, crossing his arms over his chest, and reminded viewers that he had more important topics to tend to, such as Syria and reports that chemical weapons were used over the weekend in the country's civil war. However, despite his claims that there were more pressing matters at hand, he repeatedly referenced Clinton and the 2016 presidential campaign, and insisted that the FBI was stacked against him.
He also said he wouldn't have appointed Jeff Sessions as the attorney general if he knew that Sessions was going to recuse himself from the Russia investigation. "The attorney general made a terrible mistake when he did this and when he recused himself, or he should have certainly let us know if he was going to recuse himself, and we would have used a — put a different attorney general in," Trump said.
On Monday afternoon, reports surfaced that the FBI had raided Cohen's office, seizing tax documents, business records, communications between him and Trump, and documents related to adult film actress Stormy Daniels. Daniels claims that she had an affair with Trump between 2006 and 2007, and says that she was paid $130,000 as part of a "hush" agreement in the weeks before the 2016 election. Cohen has consistently denied the affair on Trump's behalf, though he has admitted to paying Daniels the $130,000 sum. He claims he paid Daniels out of his own pocket and hasn't specified the reason why.
Trump's only public response to the rumors was that he had no idea that Cohen had paid Daniels, nor did he know where the money came from. Opponents, however, have claimed that the payout amounted to an unreported in-kind donation to the Trump campaign. Specifically, they say that's the case because the money was intended to affect the outcome of the presidential election. Cohen has denied this.
Cohen's lawyer, Stephen Ryan, released a statement in response to the office raid.
The decision by the U.S. Attorney's Office in New York to conduct their investigation using search warrants is completely inappropriate and unnecessary. It resulted in the unnecessary seizure of protected attorney client communications between a lawyer and his clients. These government tactics are also wrong because Mr. Cohen has cooperated completely with all government entities, including providing thousands of non-privileged documents to the Congress and sitting for depositions under oath.
What will become of Cohen is unclear. Trump's immediate remarks suggest that he will continue to characterize the investigation as a so-called "witch hunt" though.