Trump Reportedly Asked Mar-A-Lago Guests What They Thought Of Jared Kushner's Scandals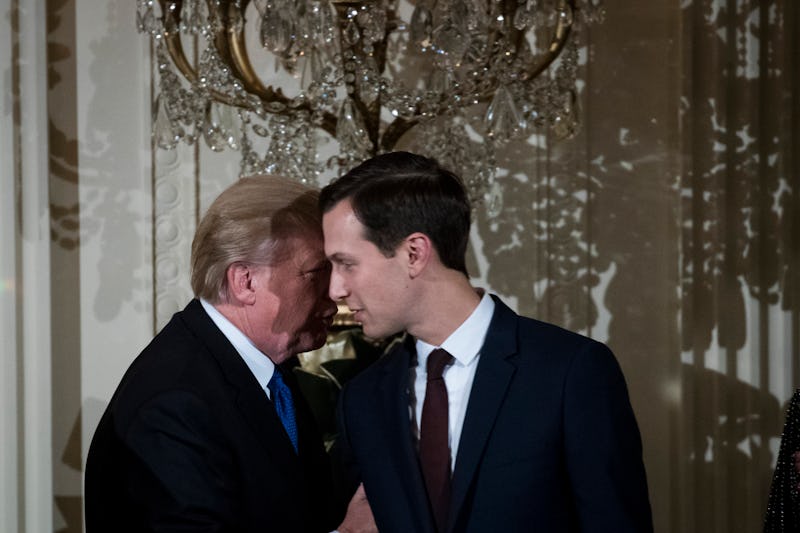 Drew Angerer/Getty Images News/Getty Images
Last weekend, after days of negative headlines about his son-in-law, President Trump reportedly polled Mar-a-Lago guests about Jared Kushner's week of bad press. According to Vanity Fair, he asked his guests what they thought of all the stories coming out about his daughter Ivanka Trump's husband.
An unnamed source told Vanity Fair that all of the negative attention surrounding Kushner struck two particularly sensitive nerves with the president. According to the unnamed person, Trump hates when someone else is the cause of bad press, and also hates when someone else might be making money off of the Trump name.
After spending one day at his coastal resort, the president returned to Washington, D.C. for the annual Gridiron Dinner, an event with an elite journalism club. As has been the tradition for over a century, the current U.S. president addresses the group and cracks a few jokes along the way.
However, when it was Trump's turn at the mic, he continued bringing up Kushner. According to The Washington Post, he joked that he was late to the event because Kushner "could not get through security." This crack came just days after Kushner's security clearance was downgraded from top secret to just secret. The decision restricts Kushner's access to a slew of classified information, as well as his ability to read Trump's daily intelligence briefings.
Kushner's security clearance downgrade immediately prompted questions about whether the lack of access would hamper his ability to perform his duties, which include pursuing peace in parts of the Middle East. However, White House Chief of Staff John Kelly fully denied that his ability to work would be hampered.
"As I told Jared days ago, I have full confidence in his ability to continue performing his duties in his foreign policy portfolio including overseeing our Israeli-Palestinian peace effort and serving as an integral part of our relationship with Mexico," Kelly told The Hill. "Everyone in the White House is grateful for these valuable contributions to furthering the president's agenda. There is no truth to any suggestion otherwise."
Aside from Kushner's decreased access to sensitive information, a series of stories also broke which questioned whether he had been in an unwitting target in four foreign powers' attempts to manipulate him. According to The Washington Post, the United Arab Emirates, Mexico, Israel, and China had discussed whether they could influence him to their advantage.
On top of that, there was also news that Special Counsel Robert Mueller, who is investigating whether the Trump campaign worked with Russia to undermine the integrity of the 2016 election, is also looking into whether Kushner's foreign business ties have had any influence on White House policies. Specifically, those business discussion under scrutiny are those which took place during the presidential transition.
In the same week, The New York Times reported that Kushner's family received massive loans after officials from two major finance institutions visited the White House last year. Those loans reportedly came from Citigroup and Apollo Global Management, and accumulatively totaled approximately half a million dollars.
But possible foreign power manipulation, an investigation into foreign business ties, and scrutiny for potential loan-related favors still wasn't all the president's son-in-law faced last week. He also is reportedly facing an inquiry by the New York Department of Financial Services about his ties to several banks.
As all of this happened, Kushner also lost his communications crisis manager when Josh Raffel announced he would be departing from his position at the White house. That Trump then proceeded to ask his (presumably) wealthy Mar-a-Lago guests what they thought of all that had transpired before poking fun at the situation before a highly famous annual dinner suggests that even the president's family is not necessarily guaranteed personal protection.