Air Force One Apparently Doesn't Look "American" Enough For Trump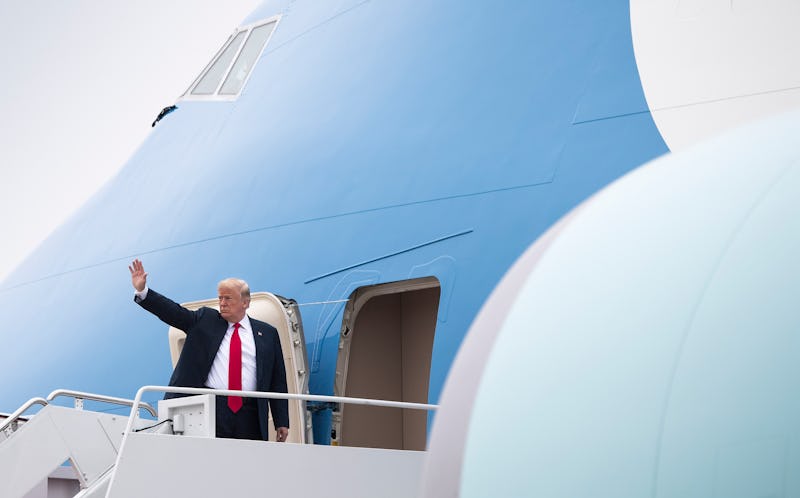 Pool/Getty Images News/Getty Images
Sometimes we all want a change in scenery. According to an Axios report, insider sources tell the publication that President Trump wants to make over Air Force One so that it looks "more American."
You're probably aware of the signature color of the plane — a light shade of blue or, in more specific terms, it's "luminous ultramarine," according to Axios. That could all change if Trump gets the paint job he reportedly wants.
Axios reported that Trump wants to ditch the light blue shade of Air Force One for something that apparently displays American patriotism in much bolder and obvious color. Instead of "luminous ultramarine" — a color that Trump reportedly called a "Jackie Kennedy color" — the president wants red, white, and blue to adorn the aircraft. The purported idea is to look "more American." He also reportedly wants a bigger, better bed as opposed to the "couch-like sleeping configuration" on Air Force One.
This report comes after Trump met with Boeing CEO Dennis Muilenberg in February to sign off $4 billion for 747 aircrafts as his Air Force One replacement. It was during that meeting with Muilenberg when Trump reportedly said that he wanted to redesign the Air Force One appearance to what he considers more patriotic hues.
Some may think that it's a simple matter of color and nothing more. But the history of the Air Force One and its signature robin blue shade goes back some 55 years during former president John F. Kennedy's administration. In fact, former first lady Jackie Kennedy was the leading figure in transforming Air Force One. The president's preference, to let go of that Kennedy blue, may not sit well with the American Air Force.
Even historians have raised their eyebrows. Michael Beschloss, a historian who delves in all affairs presidential, seemed to find Trump's preference peculiar. The historian spoke with Axios to explain the importance of the color and appearance of the Air Force One. "Why would anyone want to discard an Air Force One design that evokes more than a half-century of American history?" Beschloss asked.
Beschloss added that it wasn't simply about the color but what it represented as far as the United States historical global presence is concerned. "Every time you see that blue trim," he told Axios, "and the words 'UNITED STATES OF AMERICA' spelled out in that same typeface as an early version of the Declaration of Independence, it brings back JFK landing in Germany to speak at the Berlin Wall, Richard Nixon flying to China, Ronald Reagan stepping off the plane to see Gorbachev in Iceland and a thousand other scenes of presidents in our past."
Some may argue that the Air Force One is due for an uplift. After all, the last time the Air Force One received a change in its appearance was in 1962. In addition to Jackie's vision, the redesign was supervised by Raymond Loewy, a renowned industrial designer at the time. But it seems as if the historical significance of the color reigns supreme over cosmetic changes. It could, per historians like Beschloss, alter how America presents itself to others in the world.
"Anyone who doubts how strongly Americans feel about the way Air Force One looks should go to the Reagan Library in California and see how many people go there to look at the plane that Ronald Reagan flew on while he was President," Beschloss told Axios.
It's no surprise that Trump is reportedly inching closer toward giving the Air Force One a patriotic makeover. Two years ago, on Twitter, Trump tweeted a rant against the Boeing company and said, "Boeing is building a brand new 747 Air Force One for future presidents, but costs are out of control, more than $4 billion. Cancel order!" It looks like attitudes have changed since then.