Trump Responded To Democrats Who Want To Abolish ICE With Some Strong Words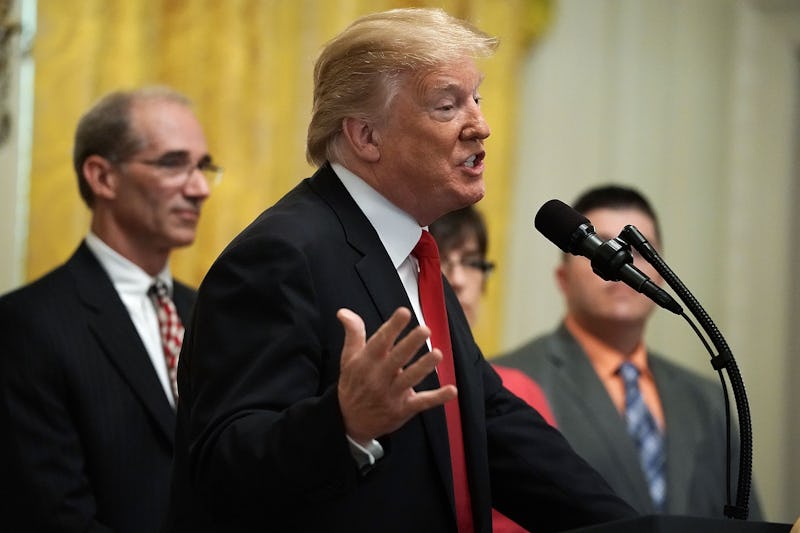 Alex Wong/Getty Images News/Getty Images
Despite the increasing numbers of Democrats joining in the calls to abolish U.S. Immigration and Customs Enforcement, otherwise known as ICE, President Trump doesn't seem to feel like the agency is threatened. Trump responded to Democrats' calls to abolish ICE with confidence, saying that such a stance would lead to Republican victories at the polls.
"Well I hope they keep thinking about it. Because they're going to get beaten so badly. You know ICE, these are the guys that go in and take MS-13, and they take them out," Trump said on an interview on Fox News' Sunday Morning Futures with Maria Bartiromo. "Because they're much tougher than MS-13, like by a factor of 10. And these are the ones — you get rid of ICE you're going to have a country that you're going to be afraid to walk out of your house."
As USA Today reported, though, more and more mainstream Democrats have been expressing their support for the movement to abolish ICE, including Sens. Elizabeth Warren and Kirsten Gillibrand. While it started as a fringe issue, it's gained steam over the past several weeks as news of the Trump administration separating children from their parents at the border shocked audiences across the country.
"The president's deeply immoral actions have made it obvious: We need to rebuild our immigration system from top to bottom, starting by replacing ICE with something that reflects our morality and that works," USA Today reported that Warren said at a rally on Saturday.
Trump, as Vox pointed out, based his argument that ICE is necessary on a claim that without ICE, the MS-13 gang would somehow overrun the country, or that they already have — which is a false claim. On Twitter, he wrote that he had "watched ICE liberate towns from the grasp of MS-13 & clean out the toughest of situations." This, Vox reported, has never happened, because MS-13 has never held control over an American city or town.
According to CNN, there are about 10,000 members of MS-13 in the U.S., which may sound like a big number, but it's a tiny fraction of the 1.4 million total gang members in the U.S. CNN also reported that despite Trump's fear-mongering on the subject, there has been no uptick in MS-13 violence in the U.S. in recent years. CNN noted that over many years of work, ICE had arrested only 104 members of MS-13.
Instead of referencing these facts, though, Trump's argument on Fox News rested on the perception that immigrants coming in bring crime — even though, as the Washington Post reported, undocumented immigrants are less likely to commit crimes than citizens born in the country. Trump, however, has repeatedly claimed that the Democrats "want Open Borders and are weak on Crime," as he said on Twitter on Saturday. Now, in this Fox News interview, he made it clear that he believes that this position will hurt the Democrats in the election.
"I love that issue if they're going to actually do that," he said on Fox, referring to the calls to abolish ICE.
So far, there is no concrete evidence pointing to whether he will be correct or not, but at least one Democrat who recently succeeded at the polls is backing the movement — and she even had it in her campaign platform.
"If we are to uphold civic justice, we must abolish ICE and see to it that our undocumented neighbors are treated with the dignity and respect owed to all people, regardless of citizenship status," Alexandria Ocasio-Cortez wrote in her official platform. While Ocasio-Cortez has so far won in only a small Democratic primary, the 2018 midterms will give everyone an opportunity to see how the Abolish ICE movement does at the polls.