Trump Releases Short Statement On John McCain's Cancer Diagnosis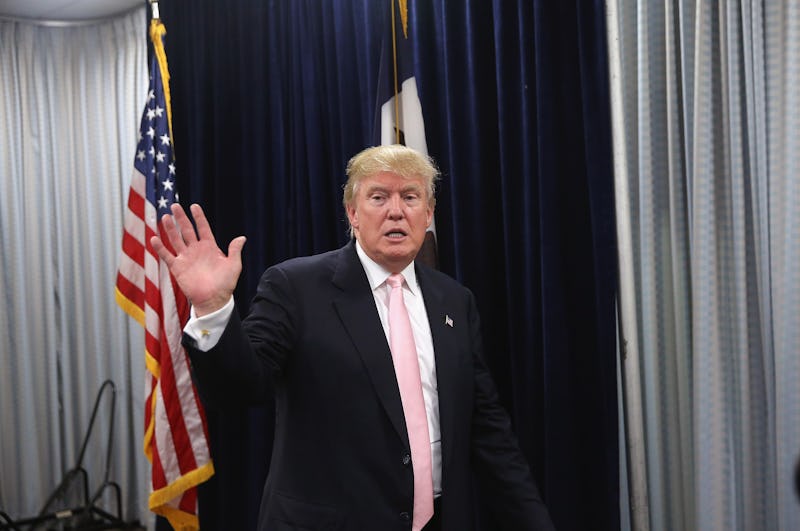 Scott Olson/Getty Images News/Getty Images
Following the news on Wednesday that Arizona senator and one-time presidential candidate John McCain was diagnosed with brain cancer, President Donald Trump released a short statement on McCain, commending him as "a fighter" and urging him to "get well soon."
In the full statement, released by the White House Office of the Press Secretary Wednesday night, Trump alluded to McCain's reputation as one of Washington's toughest and wished him well from both himself and First Lady Melania Trump.
Senator John McCain has always been a fighter. Melania and I send our thoughts and prayers to Senator McCain, Cindy, and their entire family. Get well soon.
The statement comes days after Trump wished McCain a slightly more tongue-in-cheek get-well following his blood-clot removal surgery, referring to the 80-year-old senator as "a crusty voice in Washington."
"I can tell you, we hope John McCain gets better very soon. Because we miss him. He is a crusty voice in Washington," Trump said during a speech at the White House on Monday.
"Plus, we need his vote," he added, referring to how his absence led Senate Majority Leader Mitch McConnell to delay consideration of the Republican healthcare bill until McCain returned.
McCain's office released a statement on Wednesday announcing his diagnosis and explaining that a tumor, called a glioblastoma, was found while he was having surgery to remove a blood clot last week. The blood clot, they added, was associated with the tumor and found during a scan following that surgery. His options for treatment "may include a combination of chemotherapy and radiation."
Senator McCain appreciates the outpouring of support he has received over the last few days. He is in good spirits as he continues to recover at home with his family in Arizona. He is grateful to the doctors and staff at Mayo Clinic for their outstanding care, and is confident that any future treatment will be effective.
President Trump and McCain's relationship has always been a complicated, if not frosty, one, marked with verbal barbs and criticism going both ways.
Most memorable, during his Republican Presidential primary campaign, Trump criticized McCain as "yet another all talk, no action politician who spends too much time on television and not enough time doing his job."
He also drew the ire of many Republican colleagues just over two years ago for under-cutting McCain's reputation as a war hero, saying "[McCain] was a war hero because he was captured. I like people who weren't captured."
He was referring to how, during McCain's career as a Navy pilot, he spent nearly six years in a North Vietnamese prison and refused early release unless the other prisoners were also freed.
Despite their differences, Trump's message is one of many from fellow politicians wishing Sen. McCain — considered a pillar of the Senate and the Washington community — a speedy recovery.