Trump Had A Way Out There Response To Michelle Obama's Comments About Birtherism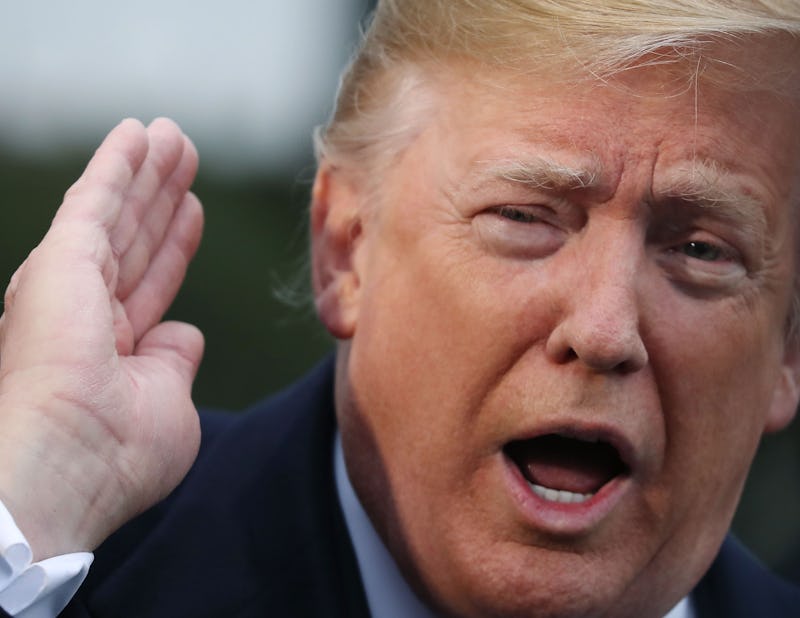 Mark Wilson/Getty Images News/Getty Images
Donald Trump has never been shy about his penchant for hitting back when he feels he's being attacked. Now, Trump has hit back at Michelle Obama, pushing back on the former first lady's claim that he endangered her daughter's lives when he promoted birther conspiracy theories.
"Michelle Obama said that? I haven't seen it," Trump told reporters Friday, per CNN. "I guess she wrote a book. She got paid a lot of money to write a book and they always insist that you come up with controversial."
The president then went on to fire back with his own characterization of the Obamas' "unforgivable" action. "I'll give you a little controversy back, I'll never forgive [President Barack Obama] for what he did to our United States military by not funding it properly," Trump said. "It was depleted. Everything was old and tired and I came in and I had to fix it. I'm in the process of spending tremendous amounts of money so I'll never forgive him for what he did to our military."
"She talked about safety — what he did to our military made this country very unsafe for you, and you, and you," Trump went on to say.
In her new memoir, Becoming, Obama reportedly doesn't dance around her dislike for Trump, according to The Washington Post, which obtained an advance copy of Obama's book. In fact, the former first lady reportedly wrote she can't forgive Trump for his role in promoting birther conspiracy theories.
"The whole [birther] thing was crazy and mean-spirited, of course, its underlying bigotry and xenophobia hardly concealed," The Washington Post reported Obama wrote in Becoming. "But it was also dangerous, deliberately meant to stir up the wingnuts and kooks."
The former first lady went on to accuse Trump of endangering her daughters' safety by continually promoting birther conspiracy theories.
"What if someone with an unstable mind loaded a gun and drove to Washington? What if that person went looking for our girls," Obama wrote. "Donald Trump, with his loud and reckless innuendos, was putting my family's safety at risk. And for this I'd never forgive him."
While Trump wasn't the first person to start questioning the legitimacy of Barack Obama's birth certificate and status as a natural-born citizen of the United States, he's widely believed to be the most high-profile person to fan the flames of those conspiracy theories. According to Vox, Trump first began to hint at birther conspiracy theories when he tossed around the idea of running for president against Barack Obama in 2011.
"I want him to show his birth certificate," Trump said during a March 23, 2011 interview on The View, per Vox. "I want him to show his birth certificate. ... There's something on that birth certificate that he doesn't like."
Even after President Obama released his long-form birth certificate, Trump continued to publicly allege it was a fraud. In fact, he was continuing to question President Obama's status as a natural-born citizenship in 2014.
On Friday, Trump also implied that there were other things for which he'd "never forgive" his predecessor for. "I'll never forgive him for what he did in many other ways," he said.