Trump Responds To The Las Vegas Shooting & Offers "My Warmest Condolences And Sympathies"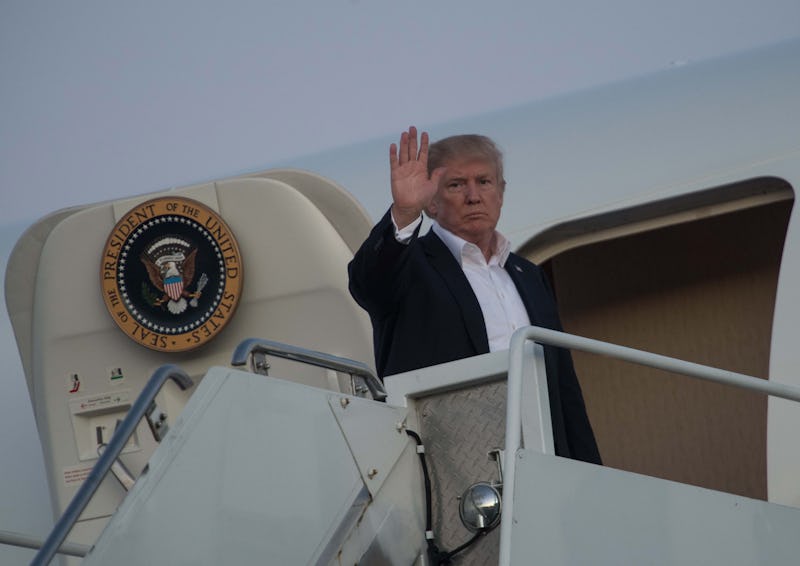 NICHOLAS KAMM/AFP/Getty Images
Hours after the deadliest mass shooting in American history, President Donald Trump has tweeted a response to the shooting in Las Vegas. The attack claimed the lives of at least 50 people and wounded at least 200 others, and Trump has responded by offering his sympathy. "My warmest condolences and sympathies to the victims and families of the terrible Las Vegas shooting. God bless you!" he wrote on Twitter.
The Trump administration has numerous crises on its hands right now, with the spate of hurricanes and the wreckage left in Houston, Florida, and Puerto Rico, and this tragedy adds yet another. The president didn't wait long to speak out on the matter, and his response lacks the characteristic bravado that so often appears in his tweets. Responding to acts of gun violence is, sadly, a common occurrence for any American president these days, and this is not the first time that a mass shooting has happened while Trump has been in office. Given the unfortunate frequency with which they occur in the U.S., no president could be expected to respond to each and every one, and Trump hasn't done that either. The sheer extent of the carnage at this shooting, however, made it necessary for the president to speak out quickly and respectfully — which Trump did manage to do.
Trump, who is very pro-gun, has been criticized in the past for his responses to mass shootings and other tragic incidents. As a presidential candidate, he used the 2016 mass shooting in Orlando, previously the nation's deadliest shooting in history, to push his Muslim ban. He tweeted in favor of gun rights and then berated the London mayor after the June terrorist attack in London, which was carried out using knives and a van. To make matters worse, he did this while reports were emerging about a mass shooting that took place in Orlando, killing five people — and then he didn't respond to that shooting, which was carried out by a white man, at all.
During his eight years in office, Obama had to respond to 14 mass shooting events, and his speeches included more and more plaintive calls for increased gun control as it got later and later in his term. Trump, whose candidacy received over $30 million from the NRA and who was the first president to speak at an NRA convention since Ronald Reagan, is unlikely to include any such calls in any speech he might give in response to this abject tragedy.
Trump is not the only politician who has already responded in some form to this horrific event. Nevada Gov. Brian Sandoval immediately tweeted a response to the attack, saying that "a tragic & heinous act of violence has shaken the #Nevada family." The vice president also added his own words, saying that over three tweets, saying to victims of the attack that "the hearts & prayers of the American people are with you. You have our condolences and sympathies" and thanking first responders for their bravery. Trump's daughter Ivanka Trump also sent her thoughts to the victims, saying that "our collective hearts are breaking for the victims and their families."
President Trump's response will come as a relief to the many who were expressing concern that his words would only serve to make matters worse. Thankfully, though, in this case his tweet included nothing partisan or biased, and anyone affected by this attack can perhaps find some solace in his words. As the hundreds of victims and their loved ones recover from and attempt to move on from this heartbreaking event, they'll certainly need any source of solace that they can find.