Trump Retweeted A GIF Of Him Hitting Hillary Clinton With A Golf Ball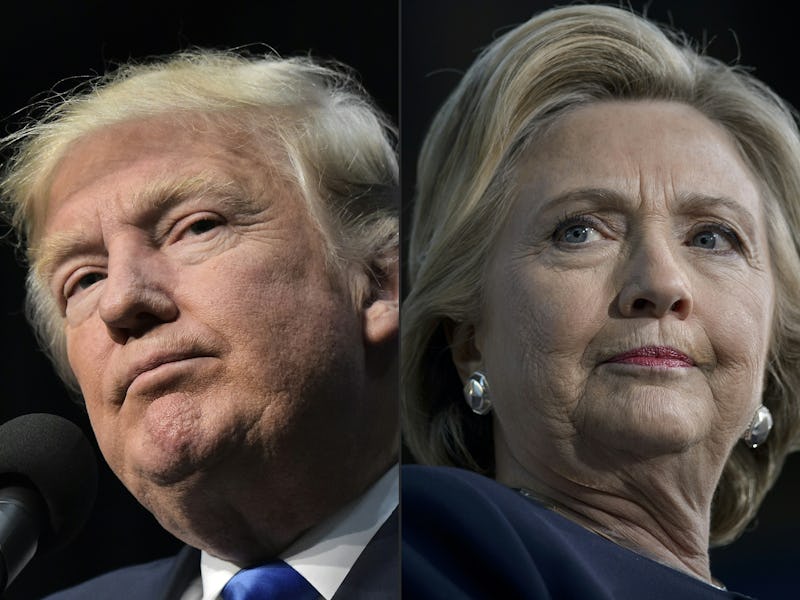 MANDEL NGAN/AFP/Getty Images
President Trump had a busy Sunday morning on Twitter. His series of bizarre tweets included a retweet a GIF showing Trump hitting Hillary Clinton with a golf ball. The GIF was originally posted by a pro-Trump account last week, with the caption, "Donald Trump's amazing golf swing #CrookedHillary." Beyond sharing the controversial GIF, Trump also retweeted himself twice and called North Korea's Kim Jong Un "rocket man" on Sunday morning.
The violent (and clearly photoshopped) GIF showed Trump swinging a golf club, then Clinton falling into an airplane, apparently from being hit by Trump's golf ball. Trump did not add any of his own commentary to the tweet, but his retweet alone was enough to raise eyebrows. His retweeted was followed by swift replies criticizing the GIF for promoting violence against his former election opponent and for lacking maturity.
The GIF popped up on Trump's Twitter account shortly after the president referred to Kim Jong Un as "rocket man." Trump was responding to North Korea's latest missile launch over Japan on Friday. "I spoke with President Moon of South Korea last night. Asked him how Rocket Man is doing. Long gas lines forming in North Korea. Too bad," the president tweeted. That tweet, too, elicited a slew of divided responses from the public, making it a busy morning for the president's Twitter account.
Trump's victory over Clinton was back in the spotlight last week following the release of Clinton's latest book,What Happened, which explores the 2016 presidential election and her facing off with Trump. In the book, the feud between the former opponents is clear: Clinton calls Trump "hateful," "flagrantly sexist," and "a fraud" among other things.
According to CNN, Trump took notice of Clinton's book release last week. He tweeted his review of the book, slamming Clinton as a candidate who "blames everybody (and every thing) but herself for her election loss." Trump renewed his attacks on Clinton on Sunday with the violent GIF.
The Clinton GIF is reminiscent of another one Trump shared back in July. Over the Fourth of July weekend, Trump tweeted a video from a previous WrestleMania event that was edited to show the president beating up CNN. Trump shared that GIF directly on his Twitter profile, including the hashtag "Fraud News CNN" in his caption.
As of mid-day on Sunday, Clinton had not publicly responded to the GIF that Trump shared. For its part, CNN did respond to the GIF Trump shared back in July. The news network said in a statement, "It is a sad day when the president of the United States encourages violence against reporters."
The WrestleMania GIF took aim directly at a major mainstream news outlet. Sending a violent message to the public, the GIF marked a memorable occasion in the president's ongoing feud with what he calls "fake news" outlets. Now, Trump has turned to a violent message once again: He has characterized his political victory over Clinton as a physical victory, as well.
Perhaps that's the takeaway from Trump's violent GIFs: His victory over an opponent isn't physical. It's powerful, sure, but it's the type of victory that can be overcome — and if those who oppose Trump are to fight back, their victories need not be physical, either.
Another takeaway was brought up by many social media users on Sunday, particularly in response to Trump's "rocket man" tweet: There are more important things to talk about. While he tweeted off-kilter remarks on Sunday morning, the president also geared up for a week of diplomacy. World leaders, including Trump, will gather this week in New York with the United Nations. It will be the first time that Trump addresses the UN, and all eyes will be on what he has to say to the world, beyond a 140-character tweet.