Trump Thinks A Government Shutdown Could Help Him Get His Border Wall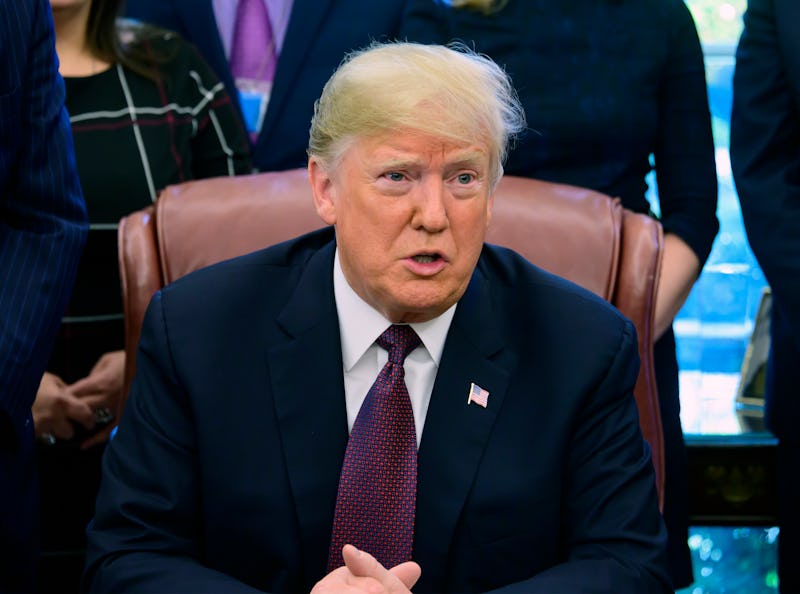 Pool/Getty Images News/Getty Images
Less than two weeks after the midterm elections, Congressional Republicans are gearing up for another immigration debate, and on Saturday, President Donald Trump suggested a possible government shutdown so that he can secure the funding he needs for his proposed border wall. In fact, Trump told reporters that it might be a "good time" for a shutdown if Congress does not allocate money for a border wall in an upcoming government funding negotiation.
"I think probably, if I was ever going to do a shutdown over border security, when you look at the caravans, when you look at the mess, when you look at the people coming in, this would be a very good time to do a shutdown," Trump said on Saturday, per CNN.
Trump added that he doesn't expect a shutdown "to be necessary, because I think the Democrats will come to their senses," but warned that if they don't, Republicans would "continue to win elections."
In calling for a government shutdown, Trump referenced a Central American migrant caravan that is slowly making its way toward the U.S.' southern border. Ahead of the midterms, Trump escalated his attacks on this caravan and released a campaign ad about it that every cable news network ultimately refused to air due to its racist nature. Trump largely remained silent on the caravan after the midterms, but he resumed his attacks on Friday and Saturday with his renewed calls for a border wall and tightened security.
According to The Hill, Congress has to fund the rest of the government by Dec. 7 or will risk setting off a partial government shutdown. This deadline was set after lawmakers were unable to approve seven individual funding bills by the end of the 2018 fiscal year. Congress was able to pass full-year funding for some agencies, but others — like the Department of Homeland Security, the National Park Service, and the Internal Revenue Service are set to run out of funding on Dec. 7.
Despite losing Republican control of the House of Representatives during the midterm elections, Trump has not given up on his border wall, Vox reported. White House counselor Kellyanne Conway told Fox & Friends that the president "is keeping all options open," and she argued that "$1.6 billion is a modest down payment for the security of this nation."
Trump also told reporters on Saturday that 5,900 troops deployed to the border in response to the migrant caravan may stay there past Dec. 15, which was originally supposed to mark the end of their mission there.
This is not the first time that Trump has threatened a government shutdown over his proposed border wall. Back in September, just before the end of the fiscal year, Trump considered the possibility of vetoing a spending bill and causing a partial government shutdown because the bill did not fund the wall.
According to Fortune, however, Senate Majority Leader Mitch McConnell said earlier this week that he expects to avoid a government shutdown by reaching an agreement with the president about border security.