Trump Said It's Up To The Women To "Persuade" Him To Change His Mind About Kavanaugh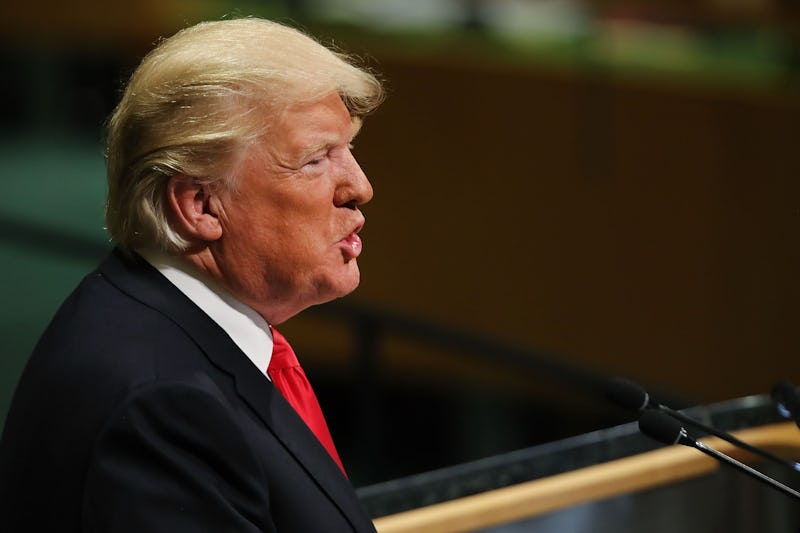 Spencer Platt/Getty Images News/Getty Images
At a press conference on Wednesday, President Trump said he could be "persuaded" to change his mind about Brett Kavanaugh. Trump made the comments as he claimed Republicans had given Kavanaugh's accusers — the three women who have accused the judge of sexually assaulting them on different occasions — an opportunity to speak about their experiences. Kavanaugh has denied all three allegations.
"They have a major chance to speak," Trump said on Wednesday. "And it will be tomorrow, I assume ... The Republican senators have delayed this for weeks now. They're giving the women a major chance to speak." (Only one woman, Christine Blasey Ford, is set to testify about her allegation against Kavanaugh on Thursday.)
"Now, it's possible I'll hear that and I'll say, hey, I'm changing my mind," Trump added. "That is possible. We want to give them a chance to speak ... They're going to have a big shot at speaking and making their case." At this point, Trump placed his hand on his chest and said, "I could be persuaded also, OK?" Bustle has reached out to the White House for comment.
The president's comments came after a reporter at the same conference asked Trump, "Are you saying that all three of those women are liars? Is there anything that could be said at this point tomorrow that could cause you to withdraw the nomination? Anything?"
At that moment, Trump said, "I won't get into that game. I only tell you this. This is one of the highest quality people that I've ever met. And everybody that knows him says the same thing. And these [allegations] are all false, to me."
"These are false accusations in certain cases," the president added, "and certain cases even the media agrees with that. I can only say that what they've done to this man is incredible."
During his press conference, Trump also lambasted the Democratic Party for highlighting accusations against Kavanaugh. "So I think when you really look at it all, it's not going to change any of the Democrats," Trump said. "They're obstructionists. They're actually con artists, because they know how quality this man is, and they have destroyed a man's reputation."
The president went on to say, "And they want to destroy it even more. And I think people are going to see that in the midterms. What they have done to this family, what they have done to these children. These beautiful children of his. And what they have done to his wife."
At his press conference, Trump also said that he may tune in to watch the Kavanaugh and Ford hearing on Thursday in front of the Senate Judiciary Committee. Both of them were called on by the committee to testify about the alleged incident.
In his comments before the press, Trump said, "I'm going to see what happens tomorrow. I'm going to be watching, believe it or not. I'm going to see what's said. It's possible they will be convincing." Reiterating his intentions, Trump claimed, "I want to watch. I want to see. I hope I can watch. I'm meeting with a lot of countries tomorrow."