A Black Reporter Asked Trump About White Nationalism, So He Called The Question "Racist"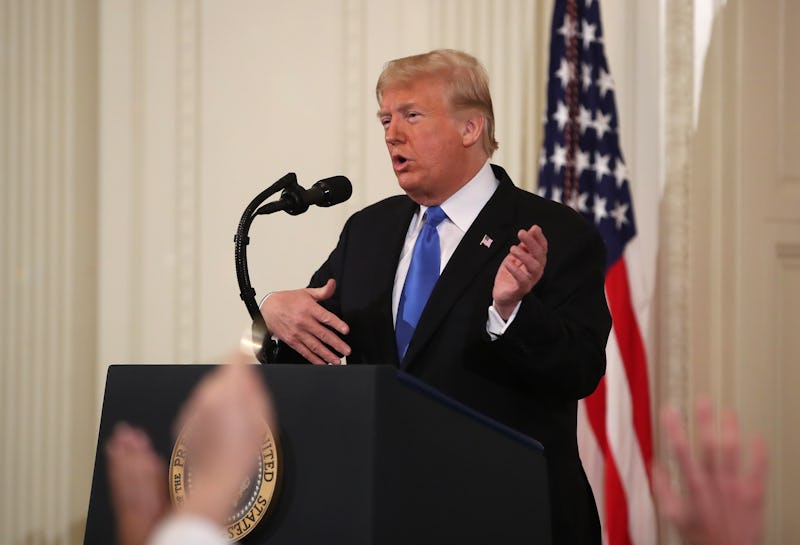 Mark Wilson/Getty Images News/Getty Images
After a morning tweet storm, President Donald Trump responded to the 2018 midterm results more officially with a press conference at the White House on Wednesday afternoon. The press conference wasn't without controversy, however. At one point, Trump said reporter Yamiche Alcindor's question about white nationalism was "racist" — despite the fact that Alcindor herself is black, and was asking about the effects of Trump calling himself a "nationalist" on the campaign trail.
"On the campaign trail, you called yourself a 'nationalist,'" Alcindor began. "Some people saw that as emboldening white nationalists."
Before she could finish the thought, however, Trump began shaking his head and then interrupted her.
"I don't know why you'd say that. That's such a racist question," Trump said, before she had even asked the actual question. Alcindor pushed forward through his interruption.
"Now people are also saying ... that the Republican Party is seen as supporting white nationalism because of your rhetoric. What do you make of that?" Alcindor asked, as Trump repeated that he didn't "believe that."
"That's such a racist question," Trump said again, after claiming that he had "his highest poll numbers among African Americans." According to an October Quinnipiac poll, 8 percent of black Americans approve of him.
"To say that, what you said, is so insulting to me. It's a very terrible thing that you said," the president continued.
Trump's answer, of course, did not address the actual question of the Republican Party's support of candidates with ties to white nationalists and white supremacists. According to Vox, three such candidates won their races: Rep. Steve King of Iowa, Rep. Steve Scalise of Louisiana, and Florida governor-elect Ron DeSantis. The GOP also supports the president himself, who did call himself a "nationalist" on the campaign, as Alcindor noted, and who also said that there were some "very fine people" in the group of white supremacists at the violent rally in Charlottesville in August 2017.
Trump did not address these issues, or anything else that Alcindor brought up in that question. Since that moment, though, people have come to Alcindor's defense on Twitter.
"My @NewsHour colleague @Yamiche is a complete professional, an utterly fair and hardworking reporter. She did not ask a 'racist question,'" tweeted Judy Woodruff, Alcindor's colleague at PBS.
Alcindor herself retweeted a video of the exchange, saying "I'm simply asking the questions the public wants to know."
The tense exchange with Alcindor wasn't the only notable moment in the White House press conference. For one thing, Trump told three separate foreign reporters that he couldn't understand their accents. He also repeatedly told CNN and American Urban Radio Network's April Ryan, who is black, to "sit down" when she was trying to ask him a question. He also virulently attacked CNN's Jim Acosta, who was trying to ask a question about the Russia investigation. This was enough to prompt an official statement from CNN on Twitter, defending Acosta and calling Trump's attacks on the press "dangerous" and "disturbingly un-American."
And while Alcindor didn't get the opportunity to defend herself and her question during the press conference, she did do so handily on Twitter.
"I've personally interviewed white nationalists who say they are more excited by President Trump than other presidents in the past," she wrote after the press conference. "Even if President Trump doesn't intend it, some see him as directly appealing to racists."