Trump Drags Barron Into The Russia Scandal For Some Reason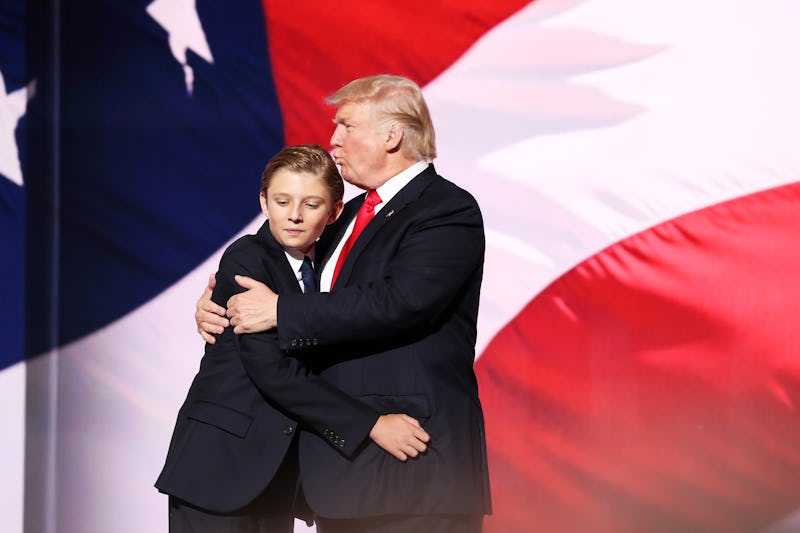 John Moore/Getty Images News/Getty Images
As the Russia investigation heats up, a threatened President Donald Trump has been lashing out at critics for what he says are unjust assaults on his family. He rushed to his son Donald Jr.'s defense after his emails expressing interest in dirt on Hillary Clinton were released, and stood up for son-in-law Jared Kushner in the face of increased scrutiny over potential collusion with Russian officials. But now, it's getting even weirder: Trump claimed the "witch hunt" will target Barron, his 11-year-old son, next.
Barron, the president's youngest son with his current wife Melania, has only been in the news a few times since his father's victory in last year's presidential election. The first was over the simple facts of his day-to-day life, with he and his mother continuing to live in Trump Tower in New York City for several months while he finished out his school year. Sources close to the Trump family also alleged that he mistakenly thought comedian Kathy Griffin's now-infamous photo holding up a faux-severed head of the president was real, sending him searching for his mother in a terrified panic.
Needless to say, young children of presidents are typically afforded a great degree of privacy and deference from the media and the public at large, out of respect for their youth, and fact that the political realities of the moment have nothing to do with them. Which is why some were vexed that the president ― and in the case of the Griffin story, sources close to family ― appeared to needlessly injected Barron into news stories himself.
Trump invoked his youngest son's name on Tuesday morning to hammer home the idea that his whole family is being wrongly persecuted by the media, as well as by investigations into his campaign and his close associates' reported ties to government-connected Russian nationals.
The tweet dragged Barron's name back into the political news cycle when there was no reason or necessity to do so. The tweet, too, was misleading; Kushner in no sense "proved" he didn't collude with the Russians, but merely asserted that he didn't.
In a response on Twitter, conservative anti-Trump columnist David Frum argued that by needlessly roping Barron into the controversy, whether for dramatic or comedic effect, the president was showing less respect for his own son's privacy than the media has.
Trump has long derided the Trump-Russia investigations — both the one being conducted by independent counsel Robert Mueller and the one being conducted by the intelligence committees in Congress — as "fake news," a "witch hunt," and a "ruse."
He used the latter term when he suggested that Barron would be the next Trump to be so persecuted, one that he's turned to with increasing frequency as the investigation has intensified, with Mueller reportedly investigating the Trump Organization's business and financial history.