Trump Just Said Calling Mexicans "Rapists" Was "Peanuts" Compared To The Truth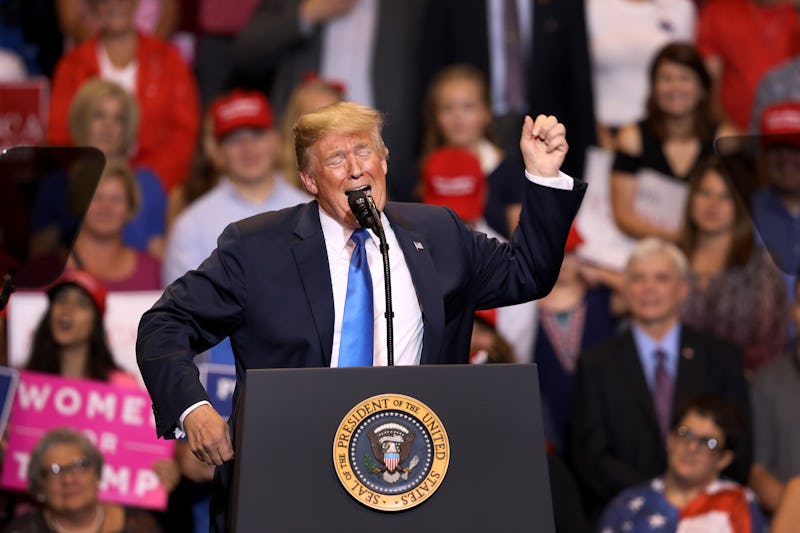 Rick Loomis/Getty Images News/Getty Images
Donald Trump launched his presidential campaign by declaring that Mexican immigrants are "rapists" responsible for "bringing crime" over the border. At a rally Thursday, Trump said his comments about Mexican immigrants were "peanuts" compared to the truth, suggesting that he stands by his original inflammatory comments.
"Remember when I did — hate to say it — coming down the escalator," Trump said at his rally in Wilkes-Barre, Pennsylvania, recalling his campaign announcement speech in June 2015. "You remember what I said? 'They're sending.' And I mentioned words — I won't even mention them tonight because there's a lot of young people here — but I mentioned words, and everybody thought it was wonderful."
At the time, Trump was in fact criticized by many of his fellow Republicans for claiming, in that speech, that "when Mexico sends its people" across the border, "they're bringing drugs. They're bringing crime. They're rapists." On Thursday, however, Trump claimed that this was an understatement.
"They said, 'Did he say this? Did he say that?'" Trump said at the rally. "Guess what: What I said is peanuts compared to what turns out to be the truth. It's peanuts."
Despite Trump's repeated claims to the contrary, documented and undocumented immigrants in the United States commit crimes at much lower rates than native-born Americans.
Trump's doubling down on his comment about Mexican immigrants at his Pennsylvania rally came during his rant against the visa lottery. Trump has long expressed disdain for the diversity visa lottery system, which grants law-abiding recipients a green card and a path to citizenship.
"So we're going to have, not a lottery where you pick it out — 'ladies and gentlemen, our first lottery winner' — you know, they think we're playing like a game show," Trump said on Thursday, then continued mimicking an actual game show to the crowd's laughter. "'Let's see, he has seven convictions for theft, he's killed nine people, and we're getting him the hell out of our country and giving them to the stupid politicians that have been running the United States for many years. And we're going to send him up there because he just won the lottery.'"
The reality of how the program works, however, is far different from what Trump has portrayed it to be. The visa lottery program is extremely selective; less than 1 percent of the millions of people who apply annually are chosen at random, and then they undergo background checks. And contrary to the president's repeated claims, a foreign country does not select who applies for the program and simply send them to the United States.
Trump's inflammatory remarks about Mexicans, Latin Americans, and immigrants at large have been a central tenet of his platform since he descended the escalator in 2015 to kick off his presidential campaign. And since his swearing-in as president in January 2017, he has translated that rhetoric into a zero-tolerance immigration policy that has resulted in thousands of children being separated from their families at the border, among other dire outcomes.
Clarissa-Jan Lim Szu-Hwei contributed to this report.