Trump's Response To Backlash Over His Stormy Daniels "Horseface" Tweet Will Floor You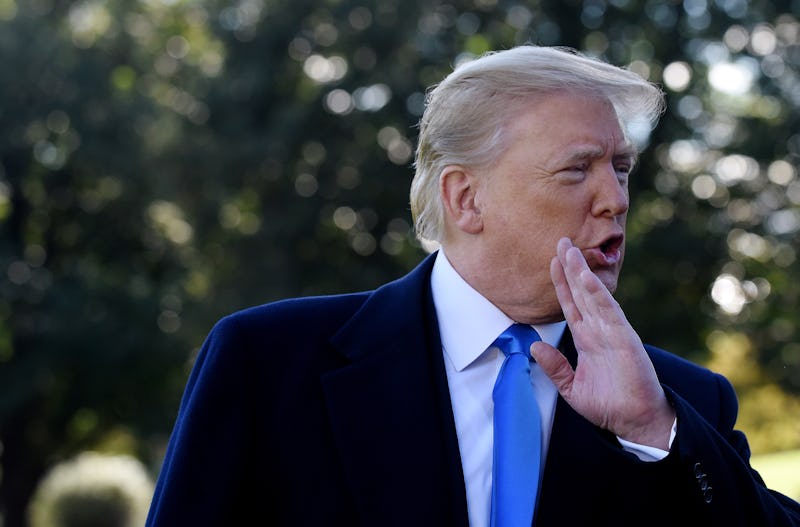 Pool/Getty Images News/Getty Images
On Tuesday afternoon, the president doubled down on an insult he'd made earlier in the day. When an Associated Press reporter asked if he thought it was acceptable behavior to criticize women by their appearances, Donald Trump said his Stormy Daniels "Horseface" insult could be taken "any way you want." Earlier in the day, Trump had bashed Daniels via Twitter, adding on to his long list of insults towards women based off of their appearances.
Trump initially tweeted the jab in response to the news that Daniels' defamation lawsuit against him had been dismissed. He wrote, "'Federal Judge throws out Stormy Danials lawsuit versus Trump. Trump is entitled to full legal fees.' @FoxNews Great, now I can go after Horseface and her 3rd rate lawyer in the Great State of Texas. She will confirm the letter she signed! She knows nothing about me, a total con!"
Trump's tweet was problematic for two central reasons (not including the fact that he spelt Daniels' name wrong.) First, his tweet wasn't exactly accurate regarding the status of his lawsuit; Trump has no legal basis to "go after" Daniels and Avenatti, as Avenatti pointed out in a subsequent tweet.
Second, and perhaps more alarmingly, Trump's repeated pattern of not only insulting women based off of their appearance, but reducing them to animal comparisons, is sexist and degrading.
Trump has called women "fat pigs," "dogs," "slobs," "disgusting animals" and more. He famously said Megyn Kelly had "blood coming out of her wherever" (as if menstruation should be an insult, in and of itself), and said of Hillary Clinton during one of their presidential debates, "[her bathroom break was] too disgusting to talk about."
When he was running for the Republican nomination for president, he said of fellow competitor Carly Fiorina, "Can you imagine that, the face of our next president? I mean, she's a woman, and I'm not supposed to say bad things, but really, folks, come on. Are we serious?"
But far before he ever ran for president, Trump was openly and publicly insulting women. In a New York Magazine interview in 1992, Trump said of women, "You can treat them like sh*t," when talking about an incident where he spilled wine on a reporter.
All of which is to say, Trump's behavior towards women is likely no longer surprising to most Americans. But as it continues to happen, it's possible that it will affect his chances in the 2020 election.
Debbie Walsh, the director of the Center for American Women and Politics at Rutgers University, told The New York Times, "This rhetoric is the kind of thing that has turned off college-educated Republican women who voted for Trump in 2016, but have fallen away."
Of course, it's far too soon to tell if Trump's penchant for insults will finally move the dial in his voter base. For now, his approval ratings remain at a steady 44%, per the latest Gallup poll for the week of Oct. 8.