Trump Just Revealed Exactly What He Thinks Of James Comey's Latest Testimony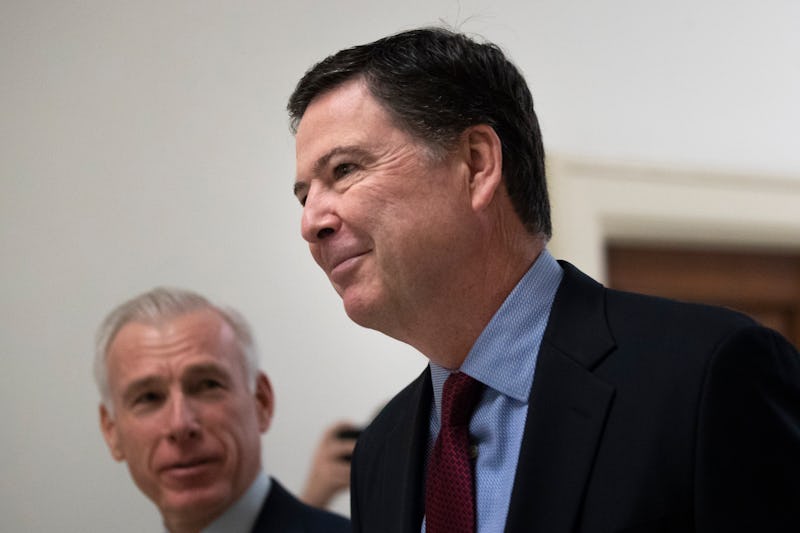 Drew Angerer/Getty Images News/Getty Images
On Sunday, the president continued his longstanding feud with his former FBI director. In a series of tweets, President Donald Trump said James Comey's testimony to Congress "set a record" for what he characterized as lies told to Congress.
"Leakin' James Comey must have set a record for who lied the most to Congress in one day," the president tweeted Sunday morning. "His Friday testimony was so untruthful! This whole deal is a Rigged Fraud headed up by dishonest people who would do anything so that I could not become President. They are now exposed!"
The president's tweets referred to Comey's testimony before the House Judiciary and Oversight Committees on Friday, according to Vox. Though the testimony took place in private, a partial transcript was published by The New York Times. In another tweet on Sunday, the president further alleged that every time Comey said he "didn't know" or "couldn't remember" the answer to a question posed by members of the committees, he was lying.
"On 245 occasions, former FBI Director James Comey told House investigators he didn't know, didn't recall, or couldn't remember things when asked," Trump wrote. "Opened investigations on 4 Americans (not 2) - didn't know who signed off and didn't know Christopher Steele. All lies!"
In a tweet sent Friday evening, Comey suggested that the hearing, itself, was politically motivated. He also suggested that investigators didn't find anything useful.
"Today wasn't a search for truth, but a desperate attempt to find anything that can be used to attack the institutions of justice investigating this president," he wrote. "They came up empty today but will try again. In the long run, it'll make no difference because facts are stubborn things."
During the hearing on Friday, Comey's relationship to special counsel Robert Mueller was of particular interest to investigators, according to the Times. One congressman reportedly asked the former FBI director if he and Mueller were "best friends." Comey responded that although he liked Mueller, the two weren't incredibly close.
"I am not," Comey said. "I admire the heck out of the man, but I don't know his phone number, I've never been to his house, I don't know his children's names. I think I had a meal once alone with him in a restaurant. I like him."
Part of the questioning also focused on Comey's decision not to bring any charges against Hillary Clinton. "And on July 5th, 2016, you stood before the American people and said that neither you nor any reasonable prosecutor would bring any charges in this fact pattern," Republican Rep. John Ratcliffe said to Comey, per the transcript. "Is that accurate?"
Comey did not mince words in his response. "Yep," he said. "I believed it then, I believe it now. And anybody that thinks we were on Team Clinton trying to cut her a break is smoking something."
The testimony's public transcript suggests that, by and large, very little was said that hasn't already been said before. But, if Trump's tweets are any indication, the president found the hearing, itself, incredibly frustrating.