Trump Says He Believes Roy Moore Will "Step Aside" If Allegations Are True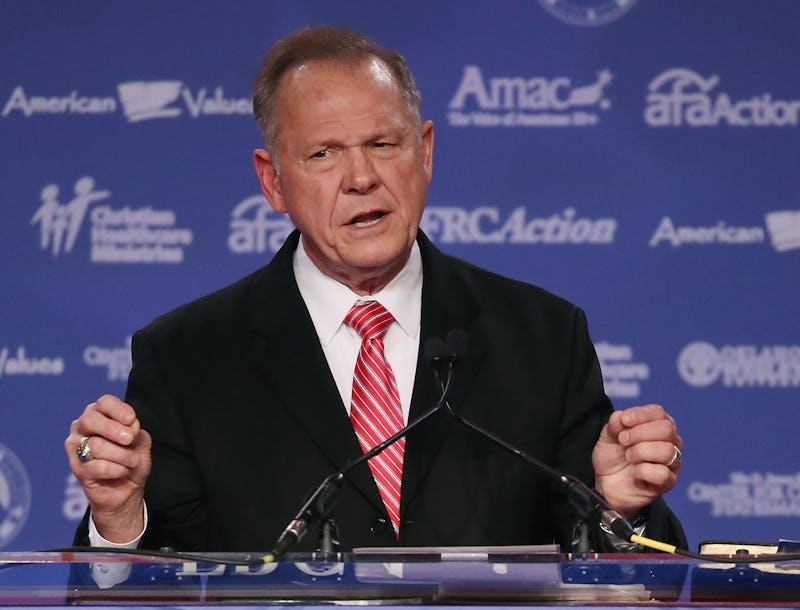 Mark Wilson/Getty Images News/Getty Images
A bombshell report published by The Washington Post on Thursday contained allegations from four women that Republican senatorial candidate Roy Moore had initiated romantic relationships with them while they were teenagers, one of whom alleged she was 14 when it happened. Moore's campaign has vehemently denied the report, calling it "fake news" and "intentional defamation." On Friday, White House Press Secretary Sarah Huckabee Sanders told reporters that while the president says a "mere allegation" from years ago shouldn't "destroy someone's life," Trump believes Moore will "step aside" if the allegations are true.
The Washington Post exposé features interviews with four women who went on-the-record with their allegations of Moore's inappropriate behavior. In the case of Leigh Corfman, one of the accusers, Moore's alleged behavior would also be illegal. Corfman claimed that Moore approached her when she was just 14 years old, and shortly thereafter allegedly initiated sexual contact with her.
The story ignited numerous calls for Moore to step down from the current Senate race in Alabama. Many top Republicans have called for Moore to step down if the allegations are true. Sen. John McCain said Moore should remove himself from the race, without any "if" caveat.
Local Republican officials in Alabama are another story. Paul Reynolds, Alabama's Republican National Committeeman, told The Hill he didn't trust the news source. "My gosh, it's The Washington Post. If I've got a choice of putting my welfare into the hands of Putin or The Washington Post, Putin wins every time," Reynolds said.
A state-level Republican strategist, Jonathan Gray, offered his own jarring take on GOP voters in Alabama. "I think they'd rather put Satan up there and then get him removed in the next election than lose the chance to correct what they think has been an injustice for eight years," Gray told The Hill. Apparently, Gray is not convinced the allegations against Moore will hurt his Senate prospects.
But the Moore defender getting the most attention online is Alabama State Auditor Jim Ziegler. Speaking with The Washington Examiner, Ziegler cited examples from the Bible in Moore's defense. "Also take Joseph and Mary. Mary was a teenager and Joseph was an adult carpenter. They became parents of Jesus," Ziegler said.
Despite disturbing allegations from Corfman, including alleging Moore had removed the 14-year-old's shirt and pants and "guided her hand to touch him over his underwear," Ziegler was not concerned. He defended Moore saying they "never had sexual intercourse," and pointed out the story is 40 years old.
Moore has been a controversial political figure for nearly two decades. The former Alabama Supreme Court Justice was twice removed from his position for refusing to uphold the law. In the first case, Moore objected to the removal of the Ten Commandments from the courthouse. Defying federal orders, Moore had a 5,000 lb granite monument displaying the Ten Commendments placed in the lobby of the state supreme court.
When he ran again in 2012 and once more won a seat on the state's highest court, Moore earned himself a second sanction by refusing to recognize same-sex marriage. That decision would come as no surprise to anyone familiar with his 2002 ruling in a child custody case involving same-sex parents. Moore stated that "homosexual conduct" alone "creates a strong presumption of unfitness" that justifies "denying that parent custody of his or her own children or prohibiting the adoption of the children of others."
Moore resigned his judgeship to run for the Senate seat vacated by Attorney General Jeff Sessions. Voting takes place on Dec. 12, which gives Republicans little time to find a Moore alternative.
For his part, Moore is refusing to back down. His campaign issued a statement calling the allegations "outlandish" and blaming them on a smear campaign. "After 40 years of public service, if any of these allegations were true, they surely would have been made public long before now," it said. It remains to be seen if Trump's call for Moore to step aside if the allegations are true will have any impact on the Republican candidate in Alabama.