Trump Slams Al Franken For That "Really Bad" Photo & Twitter Is Disgusted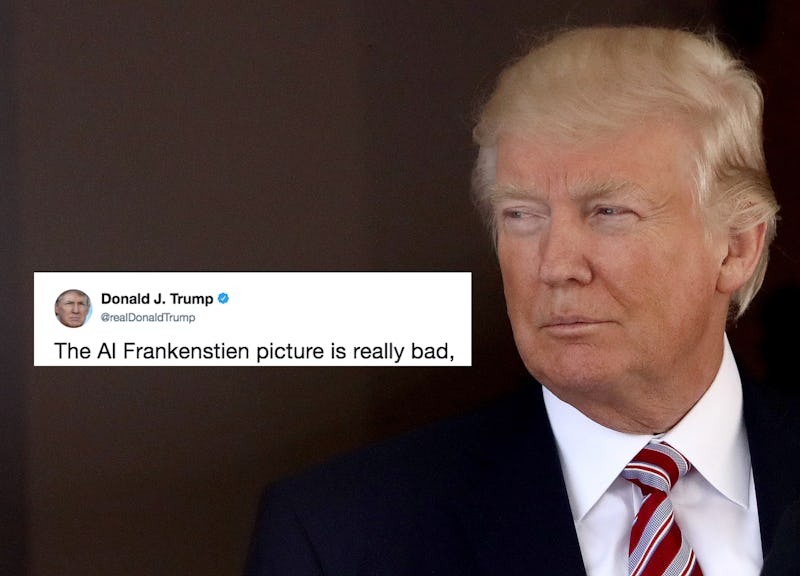 Win McNamee/Getty Images/Getty Images News
Late Thursday night, President Donald Trump responded to allegations that Sen. Al Franken groped and forcibly kissed a woman during a United Service Organization tour of the Middle East in 2006. Sen. Franken apologized almost immediately after the allegations were published on Thursday, and also requested that an ethics investigation be launched to examine the accusations.
Trump responded to the news with two tweets. "The Al Frankenstien picture is really bad, speaks a thousand words. Where do his hands go in pictures 2, 3, 4, 5 & 6 while she sleeps? ....." he said. A few moments later, he followed up with, "And to think that just last week he was lecturing anyone who would listen about sexual harassment and respect for women. Lesley Stahl tape?" (The tape in question is a reference to several rape jokes Franken allegedly made about journalist Lesley Stahl while coming up with lines for a Saturday Night Live sketch. The jokes were reported in 1995.)
According to newscaster Leeann Tweeden, Franken, who was months out from announcing his campaign for the Senate, posed for a photo of himself groping her breasts while she was sleeping. She also alleges that he forcibly kissed her during a skit rehearsal. Sen. Franken issued a statement after Tweeden's allegations broke, apologizing:
The first thing I want to do is apologize: to Leeann, to everyone else who was part of that tour, to everyone who has worked for me, to everyone I represent, and to everyone who counts on me to be an ally and supporter and champion of women. There's more I want to say, but the first and most important thing — and if it's the only thing you care to hear, that's fine — is: I'm sorry.
On Thursday, Tweeden published a first-person account of the alleged incidents on the KABC radio station's website. She said she was on a USO tour meant to entertain deployed troops. On the tour in question, Tweeden said that Franken was the headlining comedian. As she told it, "Franken had written some skits for the show and brought props and costumes to go along with them." She described the skits as "full of sexual innuendo geared toward a young, male audience."
Tweeden said she had only anticipated being an emcee for the show, but claims that Franken wrote a role for her in the skit and insisted she participate, which she says she agreed to do. Part of the skit included a moment where her character and Franken's kissed. She said she intended to turn her head to avoid the kiss, which she believed would be interpreted comedically by the audience.
However, Tweeden alleges that during rehearsals, Franken insisted that they rehearse the kiss, and that when she acquiesced, "he came at [her], put his hand on the back of [her] head, mashed his lips against [hers] and aggressively stuck his tongue in [her] mouth." She also included a photo that appears to show Franken smiling while placing his hands on her breasts while she sleeps.
In his statement, Franken lightly contested this part of story. "While I don't remember the rehearsal for the skit as Leeann does, I understand why we need to listen to and believe women's experiences," Franken said.
Trump's response to Thursday's senatorial scandal comes while his administration maintains a near-radio silence about sexual misconduct accusations against Roy Moore, the Republican candidate for Senate in a special election in Alabama. Last week, a report from The Washington Post contained allegations from four women who claim that Moore initiated romantic relationships with them while they were teenagers, one of whom says she was 14 years old at the time. Moore has vehemently denied the accusations, and has described them as "fake news."
On Thursday, White House Press Secretary Sarah Huckabee Sanders said the allegations are "very troubling and should be taken seriously," but did not expand.
"He believes the people of Alabama should make the decision of who their next senator is going to be," she said of Trump.
But, when Trump chose to comment on the allegations about Franken less than 24 hours after they were made, Twitter had a lot to say, particularly about the more than a dozen women who have accused Trump of some degree of sexual misconduct or assault. (Trump has denied these accusations, describing them as a "total fabrication.")
Coupled with his unwillingness to directly comment or condemn allegations against Moore, many users expressed exasperation about what they considered to be blatant hypocrisy. Among them was writer Stephen King, who described the move as a pot discussing the "sins of the kettle."
Of course, one example of the allegations against Trump is contained in the now-infamous Access Hollywood tape that was released in October 2016. On the 2005 tape, Trump is heard discussing the merits of grabbing women's genitals. "When you're a star, they let you do it," he said. Trump responded to the tape by describing it as "locker-room banter."
In less than two hours, Trump's tweet about Franken's hands had more responses than it did "favorites" or retweets. This phenomenon, known colloquially as "the ratio," is understood, by many, to demonstrate an immensely unpopular statement.