Trump Blames "Fake News" For Private Putin Meeting Reports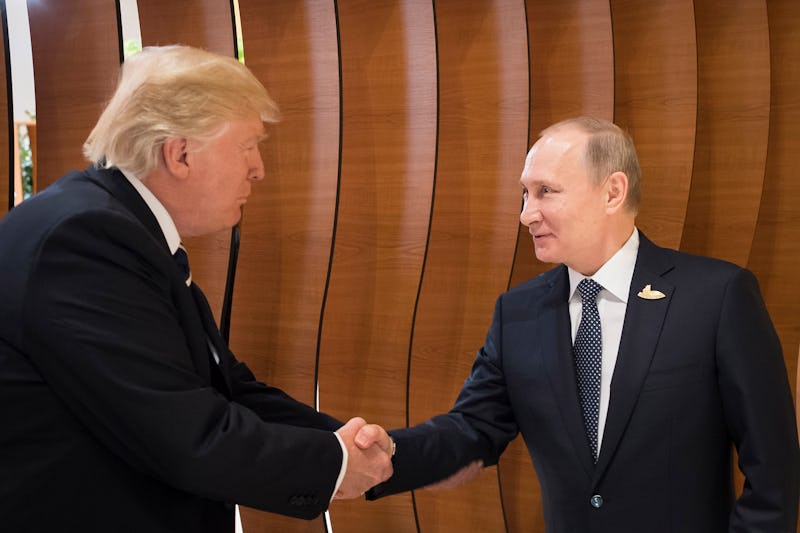 Handout/Getty Images News/Getty Images
On Tuesday, reports surfaced that President Trump privately met with Russian leader Vladimir Putin at a Group of 20 summit meeting in Germany earlier this month. Trump responded to allegations of the undisclosed Russia meeting later that evening, calling the accusations "sick."
"Fake News story of secret dinner with Putin is "sick," the President wrote on Twitter. "All G 20 leaders, and spouses, were invited by the Chancellor of Germany. Press knew!"
News reports, which cite an anonymous administration official, state that Trump left his seat at a dinner arranged for G-20 leaders on July 7 to chat with Putin. The informal meeting reportedly lasted for an hour, and, according to the Washington Post, Putin's official interpreter was the only other person present. News media were not allowed at the dinner, and U.S. journalists were not provided with an account of what occurred.
The White House pushed back on these reports Tuesday evening.
"There was no 'second meeting' between President Trump and President Putin, just a brief conversation at the end of a dinner," a White House statement read. "The insinuation that the White House has tried to 'hide' a second meeting is false, malicious and absurd."
Still, sources claim that the meeting between the two leaders was confounding. Ian Bremmer, president of a New York-based research and consulting firm who claims to have spoken directly with dinner attendees, told the New York Times that those present at the dinner were "confused" and "startled" by the unexpected conversation between the two leaders.
"Pretty much everyone at the dinner thought this was really weird, that here is the president of the United States, who clearly wants to display that he has a better relationship personally with President Putin than any of us," Bremmer said. "Or simply doesn't care."
The possibility of a secret, undisclosed Trump-Putin meeting is certainly sinister at worst, and questionable at best for the Trump Administration, given that many of Trump's family members are currently under fire for failing to disclose their own meetings with Russian officials. Trump's son-in-law Jared Kushner reportedly omitted meetings with Russian officials from his security clearance forms, and son Donald Trump Jr. reportedly met with a Russian lawyer during the campaign to receive damaging information on Hillary Clinton — a development that first came to light last week.
While there are still many questions surrounding the reports of this newly-discovered, informal meeting, one thing is clear — it's certainly not a good look for the President given that the investigation into potential collusion between the Trump campaign and Russia continues to expand each day.