It Sounds Like Trump Doesn't Believe Children Were Tear Gassed At The Border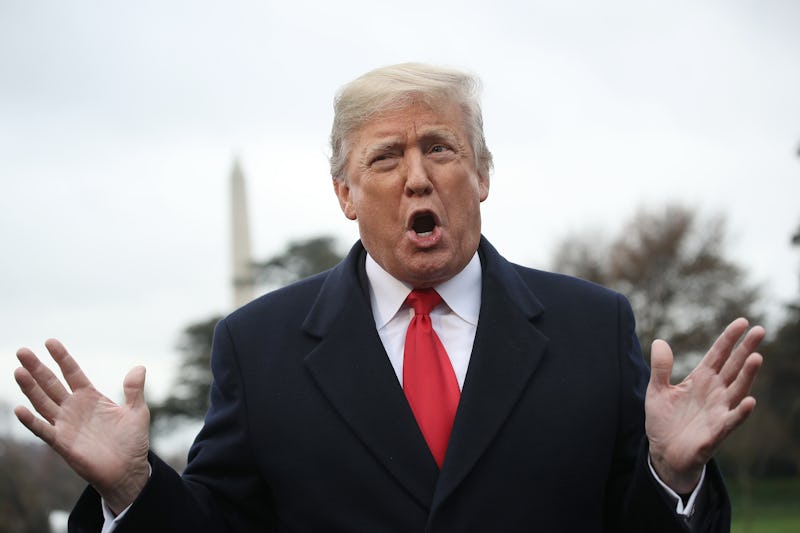 Win McNamee/Getty Images News/Getty Images
Following a clash between migrants and border security over the weekend, the U.S.-Mexico border has yet again become the center of attention. But in speaking with reporters at the White House on Monday, President Trump suggested tear gas wasn't used on children on Sunday, as countless reports have indicated.
The president was responding to a reporter who had asked if the president was "comfortable teargassing children." Trump's answer appeared to cast doubt on whether that had even happened. Bustle has reached out to the White House for comment.
"They're not, as you know. They're not," Trump told the reporter, per video shared to Twitter by CBS News. "They had to use [it] because they were being rushed by some very tough people. And they used tear gas. Here's the bottom line: Nobody's coming into our country unless they come in legally."
Some 500 migrants reportedly tried to enter the United States at the U.S.-Mexico border on Sunday, prompting a temporary shutdown of one of the busiest entry points between the two countries, according to multiple reports. Although the entry point is back open, Trump threatened to close the border permanently in a tweet sent early Monday morning. He also described the migrants as "stone cold criminals."
Although the Trump administration faced immediate and intense criticism for the tear gas use, Secretary of Homeland Security Kirstjen Nielsen defended the decision in a series of tweets sent Sunday night.
"This AM, @CBP was forced to close the #SanYsidro POE to ensure public safety in response to a large # of migrants seeking to illegally enter the US," she wrote. "They attempted to breach legacy fence infrastructure along the border & sought to harm CBP personnel by throwing projectiles @ them. @DHSgov will not tolerate this type of lawlessness & will not hesitate to shut down POEs for security reasons."
Images of children running away from tear gas, however, did not sit well with many Democrats, analysts, and activists. Some called for compassion, others offered biting, historical criticism.
"Families are frightened and soldiers are shooting tear gas at toddlers. We must choose to be better than this," tweeted Amnesty International.
Others argued that the migrants were being harmed even though they might not be doing anything technically illegal. Instead, they pointed to the history of U.S. immigration, and the way that asylum has worked for other groups of people.
"Asking to be considered a refugee & applying for status isn't a crime," tweeted congresswoman-elect Alexandria Ocasio-Cortez. "It wasn't for Jewish families fleeing Germany. It wasn't for targeted families fleeing Rwanda. It wasn't for communities fleeing war-torn Syria. And it isn't for those fleeing violence in Central America."
Trump's comments on Monday, regarding the use of tear gas, do not make entirely clear whether the White House stands by firsthand reports that indicated children were, indeed, affected by tear gas reportedly launched by Border Patrol agents. As the situation at the border continues to unfold, it remains unclear what will happen to the thousands of migrants waiting to enter the United States.