Trump Fans Chanted "Lock Her Up" The Same Day Hillary Clinton Was Sent A Pipe Bomb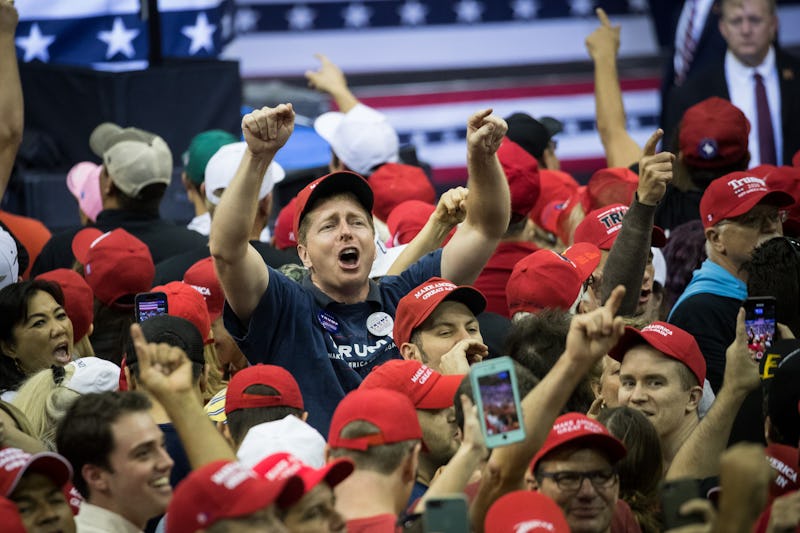 Loren Elliott/Getty Images News/Getty Images
Hours after Hillary Clinton received a pipe bomb in the mail at her home in New York, President Trump's supporters chanted "lock her up!" at a rally in Wisconsin. Footage of the event shows attendees chanting the phrase, which dates to the 2016 election, before the president arrived on stage for the Mosinee, Wisconsin campaign rally.
Bustle has reached out to the White House for comment. Clinton was just one of several top Democrats to receive explosives or suspicious packages in the mail this week. The first such package was reported on Tuesday, when a package containing an explosive device was sent to Democratic megadonor George Soros's house in Bedford, New York. On Wednesday, a flurry of suspicious packages were addressed to prominent Democrats also arrived in the mail — though not all of them reached their intended recipients.
Along with Clinton and husband Bill, Barack and Michelle Obama, former Attorney General Eric Holder, Rep. Maxine Waters, and Rep. Debbie Wasserman-Schultz were all sent suspicious packages on Wednesday, several of which turned out to be explosives. In addition, a bomb sent to CNN's headquarters in New York — and addressed to former CIA Director John Brennan, who has appeared on CNN — prompted an evacuation.
All of the packages were intercepted before causing any damage. An explosive sent to Rep. Maxine Waters was found at a congressional mail sorting facility in Maryland, while the packages sent to the Obamas were detected by the Secret Service. Some of the officials, such as Waters, received multiple suspicious packages in the mail.
According to the Washington Post and the Associated Press, all of the packages had Wasserman-Schultz's office listed as the return address. This resulted in Wasserman-Schultz receiving one of the suspicious packages, as it had been addressed to Holder but listed the wrong address. It's not yet clear if this was an explosive; however, the Associated Press reports that it contained the same style of address labels and misspelling of Wasserman-Schultz's name as the packages that were bombs.
Although the bombs all targeted liberals, Democrats, and figures that have been publicly and repeatedly condemned by Trump, many Trump supporters rejected the suggestion that they may have been sent by conservatives. Radio host Michael Savage declared on his show that there's "a high probability that the whole thing is set up as a false flag to gain sympathy for the Democrats," while conservative activist Candace Owens wrote on Twitter that "there is a 0% chance that these 'suspicious packages' were sent out by conservatives." Neither presented any evidence to support their claims, however, and Owens later deleted her tweet without explanation.
Trump himself condemned the mailings, calling them "despicable" and announcing that an investigation is underway to determine who sent the packages.
"The full weight of our government is being deployed to conduct this investigation and bring those responsible for these despicable acts to justice," Trump said at the top of a speech otherwise focused on the opioid epidemic on Wednesday. "We will spare no resources or expense in this effort. In these times, we have to unify. We have to come together, and send one clear, strong unmistakable message that acts or threats of political violence of any kind have no place in the United States of America."