Trump Supporters Interrupted Julius Caesar In NYC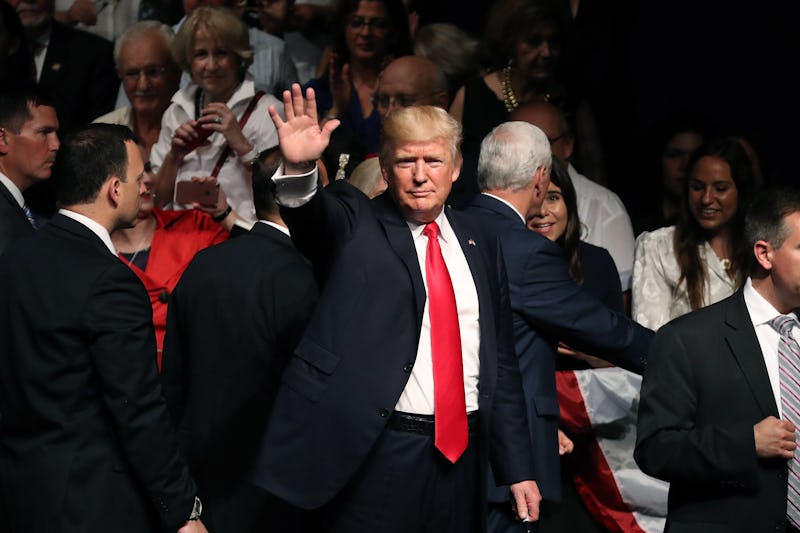 Joe Raedle/Getty Images News/Getty Images
On Friday night, after a few days worth of conservative outcry, a group of Trump supporters crashed the Julius Caesar production at New York City's Shakespeare in the Park, with one member of the group jumping on stage. Video of the encounter was posted on Twitter by high-profile Trump supporter and social media troll Jack Posobiec, who loudly participated in the interruption. The play had drawn attention in recent days for depicting the title character of Julius Caesar as a Trump-like politician, and thus ultimately showing that Trump stand-in's assassination.
One of the activists, Laura Loomer, was arrested following the demonstration. As the assassination scene grew near, she got on stage and decried both the play and its audience, while Posobiec stood and recorded from the seats, yelling a series of insults and accusations at the attendees.
Specifically, he shouted that they were "Nazis like Joseph Goebbels" who were inciting "terrorism" against the president by way of the Shakespeare production. He also invoked the name of Louisiana representative and House Majority Whip Steve Scalise, who was critically wounded in a mass shooting at a GOP baseball game practice in Alexandria, Virginia, insisting that the assembled group of Manhattan theatergoers had blood on their hands.
You are all Goebbels! You are all Nazis like Joseph Goebbels! This is Goebbels! You are all Goebbels! You are inciting terrorists! The blood of Steve Scalise is on your hands! Goebbels would be proud! Goebbels would be proud!
He actually kept yelling "Goebbels would be proud" a lot longer than that, but you get the idea. For the unfamiliar with the history of World War II, Joseph Goebbels was Nazi Germany's chief political propagandist.
This is not Posobiec's first foray into agitating right-wing protests, as he emerged throughout the 2016 presidential election season as a popular figure among the alt-right, viewed by many as a primarily racist and white nationalist movement. Since the election ended, he was one of many far-right pro-Trump figures to stoke a baseless online conspiracy theory about child trafficking which ultimately caused a man to fire a gun inside a Washington, D.C. pizzeria.
BuzzFeed News' Joseph Bernstein has also reported that Posobiec was involved in planning a discrediting hoax at an anti-Trump protest in mid-November, where someone was spotted holding up a sign that said "rape Melania." The image was used to attack the demonstration, and portray anti-Trump protesters as hateful and violent.
For the record, Posobiec denied any involvement in the inflammatory sign to BuzzFeed News, and reportedly said photos of his texts suggesting otherwise had likely been photoshopped.
In short, he's about as diehard a Trump supporter ― and indeed, pro-Trump activist and agitator ― as they come, which is probably what spurred he and Loomer to interrupt the show on Friday night. As it happens, if the pro-Trump right wants this play shut down, they'll get their wish before too long; all this brouhaha happened right at the end of its run, and its last show is on Sunday, June 18.