Trump Was Reportedly Surprised To Hear That Not Everyone On Welfare Is Black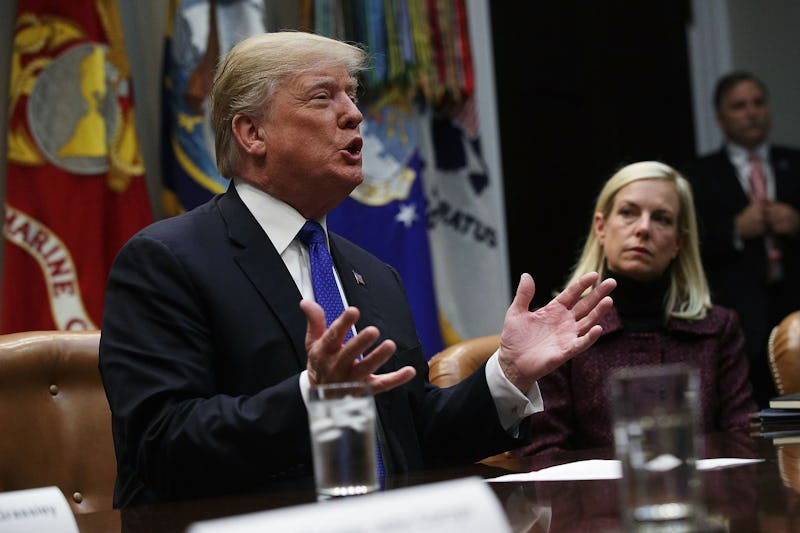 Alex Wong/Getty Images News/Getty Images
Reports President Donald Trump had reportedly referred to Haiti and African nations as "sh*thole countries" earlier this week have renewed arguments he's racist. But while it was "sh*thole countries" that got everyone — and I do mean everyone — talking, it wasn't the first questionable remark on race Trump is reported to have made. According to an NBC News report, last year, Trump expressed surprise that not all welfare beneficiaries are black.
Trump appeared astonished to learn that not everyone on welfare is black during a March 2017 meeting with members of the Congressional Black Caucus, NBC News has reported. "Really? Than what are they?" Trump reportedly asked after one member noted that welfare reform would harm her constituents, "not all of whom are black."
According to a 2017 study from the Center on Budget and Policy Priorities, they're likely white. Some 6.2 million working-class whites benefited from federal safety-net and poverty reduction programs in 2014, more than any other racial or ethnic group. In fact, according to the Center on Budget and Policy Priorities, of all working-age adults without college degrees benefiting from such safety-net programs, half are white. In contrast, less than a quarter are black and a fifth are Hispanic.
At that same meeting, the president was also reportedly surprised to learn that no one in the Congressional Black Caucus personally knew Ben Carson, Trump's then-incoming Housing and Urban Development secretary. Yet even these are not the full extent of the questionable remarks Trump is reported to have made about race and ethnicity while in office or on the campaign trail.
In February, Trump stereotyped a black reporter by repeatedly assuming that because she was black she knew or had connections with the Congressional Black Caucus. "Tell you what, do you want to set up the meeting?" the president asked American Urban Radio Networks reporter April Ryan after she'd inquired if he planned to discuss his urban policy agenda with the political organization. "Do you want to set up the meeting? Are they friends of yours? Set up a meeting," Trump told Ryan.
Trump also appeared to stereotype African Americans while speaking at an August 2016 campaign rally in Dimondale, Michigan. "You're living in poverty, your schools are no good, you have no jobs, 58 percent of your youth is unemployed. What the hell do you have to lose?" Trump said in an off-the-cuff pitch to black voters.
But even those aren't the extent of Trump's remarks. Last fall, Trump reportedly grilled an expert in hostage policy about where she was from. When the woman said she was from New York the president appeared unsatisfied and asked her where "your people" came from, NBC News reported. When the woman then said her family had come to the United States from Korea, Trump reportedly asked one of his advisers why the "pretty Korean lady" wasn't negotiating with North Korea for them.
In December, the New York Times reported Trump had made disparaging remarks about Haitian and Nigerian immigrants during a June meeting with his national security team. While complaining about the number of Haitian immigrants in the U.S., Trump reportedly claimed they "all have AIDS" before charging that those who'd come from Nigeria would never "go back to their huts" once they'd seen the United States. The White House denied the Times' allegations.
While Trump has denied he used the phrase "shithole countries," the comment appears to fit well in what can only be described as a long-standing pattern of behavior for him. In fact, Trump's pattern of making derogatory remarks toward minorities appears to predate his presidency.