Trump Reportedly Thought The News Coverage Of John McCain's Death Was "Over-The-Top"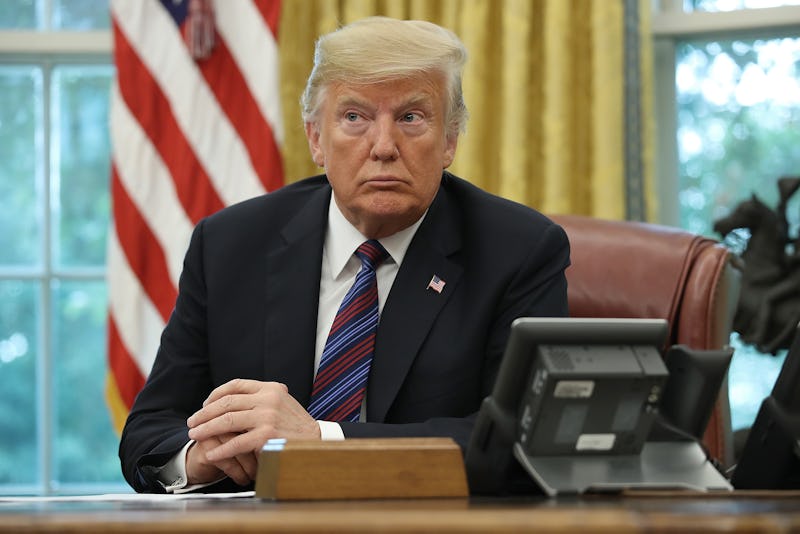 Win McNamee/Getty Images News/Getty Images
In the wake of the senator's passing, President Trump reportedly thought news coverage of John McCain was "over-the-top," per a report by The Wall Street Journal. The alleged rift between Trump and McCain has become an increasing topic of speculation in the days following McCain's death, as Trump was slow to issue a standard statement ordering all flags to remain at half-staff through McCain's internment. Now, sources have told The Wall Street Journal that Trump hasn't been too pleased with the attention and treatment of McCain's death in general.
The Wall Street Journal reports that Trump reportedly resisted advice from his aides to speak out about the senator, and that he "viewed the news coverage of the former senator's death as over-the-top and more befitting a president." Bustle has reached out to the White House for comment.
On Sunday, hours after McCain's passing, Trump reportedly chose not to issue a statement in which he would have called the senator a "hero," The Washington Post reported. Instead, Trump opted for a simpler tweet: "My deepest sympathies and respect go out to the family of Senator John McCain. Our hearts and prayers are with you!"
In addition to his limited commentary on McCain to the public, you shouldn't expect the president to speak about McCain at the late GOP senator's funeral. The New York Times reports that McCain confirmed in his final days that he did not want Trump at his funeral.
Late on Monday afternoon, over a full day after McCain's death, Trump finally issued a statement. Per CNN, the brief statement focused primarily on the logistics of what he'd approved for the ceremonies which will take place over the coming week. Trump also wrote, "Despite our differences on policy and politics, I respect Senator John McCain's service to our country."
On Monday evening, at a dinner with Evangelical leaders at the White House, Trump mentioned McCain briefly once more, saying, "Our hearts and prayers are going to the family of Senator John McCain. There's going to be a lot of activity over the next number of days. And we very much appreciate everything that Senator McCain has done for our country."
At a ceremony honoring McCain's life in the U.S. Capitol on Friday, CNN reports that Vice President Mike Pence will deliver marks, not Trump. What's more, it looks like Trump won't even be present at the ceremony in general, as his statement listed James Mattis, John Bolton, and John Kelly as the representatives for his administration at the event.
In McCain's final letter to America, as read by his former campaign manager, Rick Davis, McCain spoke out against what some believe to be the characteristics of the Trump administration:
We weaken our greatness when we confuse our patriotism with tribal rivalries that have sown resentment, and hatred and violence in all the corners of the globe. We weaken it when we hide behind walls, rather than tear them down; when we doubt the power of our ideals, rather than trust them to be the great force for change they have always been.
McCain closed his letter by reinforcing the importance of coming together as a united nation. He wrote, "Do not despair of our present difficulties. We believe always in the promise and greatness of America because nothing is inevitable here. Americans never quit, we never surrender, we never hide from history. We make history."