Trump's Threats Over A Migrant Caravan Headed To The US Escalated Quickly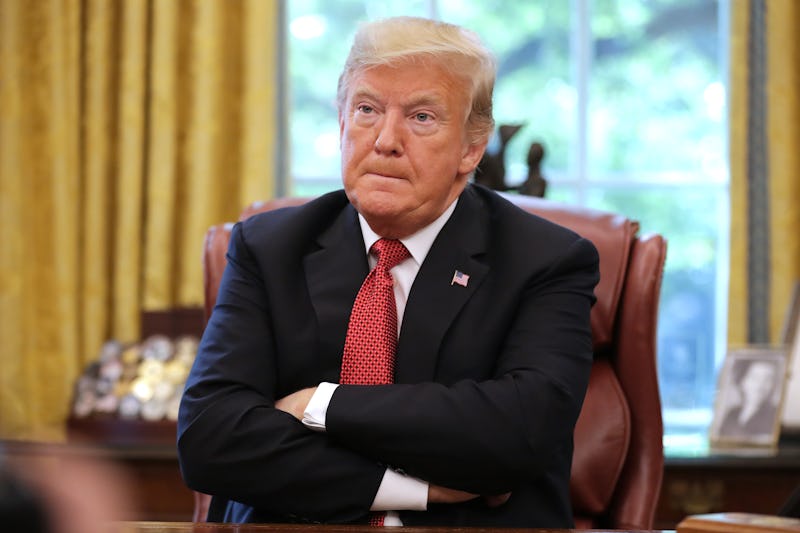 Chip Somodevilla/Getty Images News/Getty Images
President Donald Trump has consistently made immigration and trade major focuses of his administration's agenda, but today the immigration part is taking precedence over trade. Trump threatened Mexico in a series of tweets on Thursday morning, claiming that he would blow up the recently signed United States-Mexico-Canada Agreement (USMCA) over a caravan of migrants from Honduras that's currently making its way towards the United States' southern border. Trump began his tweet storm by blaming the Democrats, who he claimed were "leading" the caravan.
"I am watching the Democrat Party led (because they want Open Borders and existing weak laws) assault on our country by Guatemala, Honduras and El Salvador, whose leaders are doing little to stop this large flow of people, INCLUDING MANY CRIMINALS, from entering Mexico to U.S.," Trump wrote on Thursday.
The current migrant caravan, one of many to have taken a similar path in the past several years, is believed to have more than 4,000 people traveling together. The group left from Honduras, and it has nothing to do with the Democratic Party. As The Washington Post noted, Trump's false claim connecting the Democrats to the caravan likely has to do with his midterms strategy of trying to paint the Democrats as weak on immigration.
"In addition to stopping all payments to these countries, which seem to have almost no control over their population, I must, in the strongest of terms, ask Mexico to stop this onslaught," Trump wrote in a second Thursday morning tweet. "And if unable to do so I will call up the U.S. Military and CLOSE OUR SOUTHERN BORDER!"
"The assault on our country at our Southern Border, including the Criminal elements and DRUGS pouring in, is far more important to me, as President, than Trade or the USMCA," the president wrote in a final tweet on the subject. "Hopefully Mexico will stop this onslaught at their Northern Border. All Democrats fault for weak laws!"
The negotiations for the USMCA finished only weeks ago, according to Vox, and it included only the United States, Mexico, and Canada, as the name suggests. It has nothing to do with Honduras, the country of the caravan's origin.
Matthew Gertz, a fellow at the nonprofit Media Matters For America, noted on Twitter that Trump seems to have lifted his talking points from Fox & Friends, where a conversation blaming the Democrats for the caravan took place less than an hour before Trump posted his tweets. Trump's administration has shaped its own immigration policy, though, and so far it doesn't seem to have decreased the number of people arriving at the border.
In September, Border Patrol arrested a record number of undocumented migrants at the Mexican border, The Washington Post reported. Trump has repeatedly blamed the Democrats for this crisis and made various other threats, including threats to stop aid payments to Honduras, Guatemala, and El Salvador unless those countries do something to stop their citizens from leaving. According to The Post, those high numbers have continued into October despite Trump's actions — and it's unclear whether his latest round of threats will have a more significant effect.