Trump Trashed DACA While Walking Into Church On Easter & The Irony's Too Much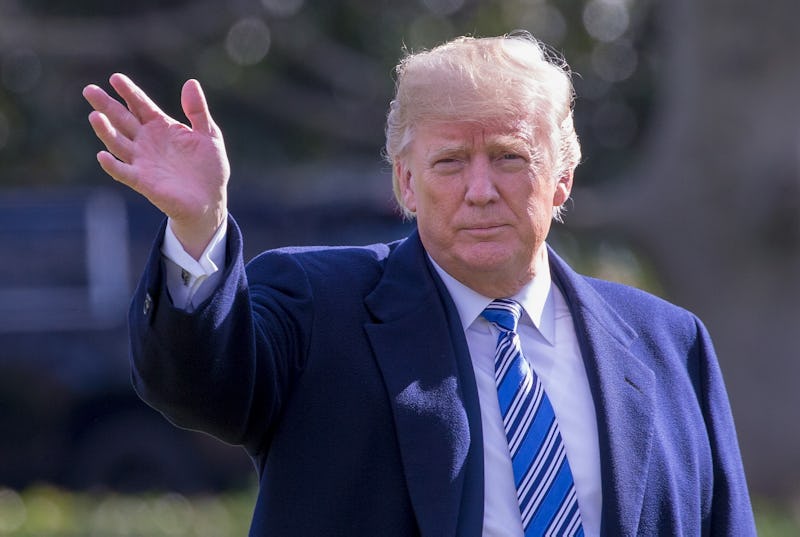 Tasos Katopodis/Getty Images News/Getty Images
Easter morning seemed to be intense in Palm Beach, Florida where Donald Trump, according to The Washington Post, went on a peculiarly-worded anti-immigration rant. While speaking to the press, Trump trashed DACA before Easter church service when asked about his recent Twitter rant on the program. To say the least, the timing was not great.
Toronto Star reporter Daniel Dale shared a transcript of the eyebrow-raising comments from Trump who answered a reporter's question with repetitive and rambling responses. When asked for a clarification on his own anti-DACA remarks, Trump said that Mexico would have to help the United States in strengthening border security. The President said,
Mexico has go to help us at the border. If they're not going to help us at the border, it's a very sad thing between our two countries.
Trump repeated once more, "Mexico has got to help us at the border" and added, "A lot of people are coming in because they want to take advantage of DACA, and we're going to have to really see."
They had a great chance. The Democrats blew it. They had a great, great chance but we'll have to take a look, because Mexico has to help us at the border. They flow right through Mexico. They send them into the United States. It can't happen that way anymore. Thank you.
DACA began as a policy under former president Barack Obama in 2012. It worked as a temporary stay measure for undocumented immigrants who came to the United States as children. Instead of deporting them, DACA gave its recipients, also known as Dreamers, the chance to make it in the country with education, health, and employment benefits. It did not — and this is important — lead to American citizenship.
The Washington Post reported that Trump also threatened to pull the United States out of the North American Free Trade Agreement (NAFTA) if Mexico did not comply with his demand to bolster border security. You might be wondering how that would even work. Presently, the signatories of the NAFTA pact are Canada and Mexico. As Bloomberg reports, the president would have to give a notice to the signatories of NAFTA six months in advance of pulling out of the deal. If that does happen, thousands of jobs could be affected, according to the Bloomberg analysis.
Concerning as they may be, Trump's comments arrive after his equally concerning Twitter rants. On April 1, the president went on a lengthy diatribe — equipped with all-caps — against immigration. Trump started off his Easter tweets by wishing his followers a happy Easter and then changed his tune, saying, "Border Patrol Agents are not allowed to properly do their job at the border because of ridiculous liberal (Democrat) laws like Catch and Release. Getting more dangerous. 'Caravans' [are] coming. Republicans must go to Nuclear Option to pass tough laws NOW. NO MORE DACA DEAL!"
In his tweets, Trump also said that Mexico laughs "at our dumb immigration laws. They must stop the big drug and people flows, or I will stop their cash cow, NAFTA. NEED WALL!"
While the transcript may be strange to read, the video of the president sharing his thoughts on immigration and border security is even more peculiar. NBC News shared a clip of Trump appearing with First Lady Melania Trump and his daughter, Tiffany Trump, in front of a church. While his wife and daughter wear sunglasses and get ready for church service, you can see Trump going on a repetitive and aggressive anti-immigration rant.