Trump Says He'll "Find Some Kind Of An Excuse" If He's Wrong About Kim Jong Un — VIDEO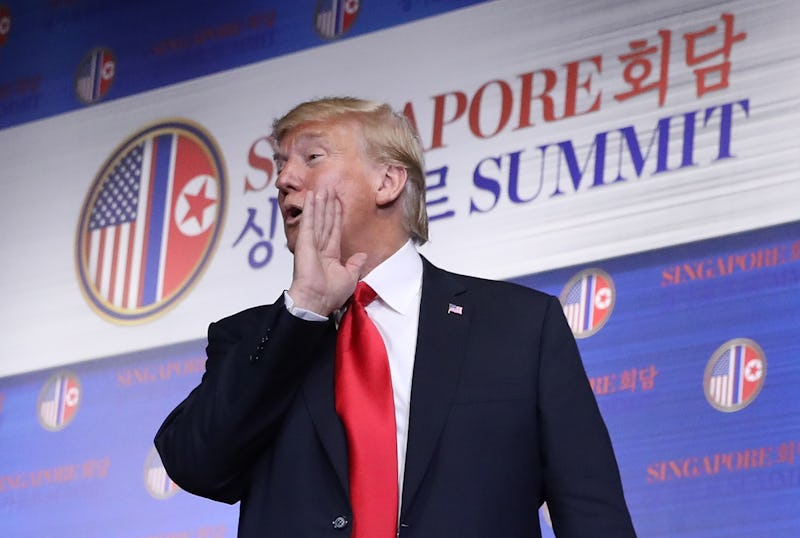 Win McNamee/Getty Images News/Getty Images
Well, it was an honest statement. During his news conference following the historic meeting with North Korea's leader, President Trump said he trusts Kim Jong Un and is confident that he'll denuclearize the country ... but if he's wrong about it, he'll find a way to blame it on someone else.
"Honestly, I think he's going to do these things," Trump said. "I may be wrong, I mean I may stand before you in six months and say, 'Hey, I was wrong.' I don't know that I'll ever admit that, but I'll find some kind of an excuse."
Trump later reiterated that he could be wrong about Kim in an interview with ABC News' George Stephanopoulos. "I do trust him, yeah," Trump said. "Maybe in a year you'll be interviewing and I'll say I made a mistake. It's possible. We're dealing at a high level, a lot of things can change, a lot of things are possible."
The two leaders met one-on-one as well as with their advisers, ultimately signing a joint agreement at the end of the day. The agreement was "comprehensive," Trump stressed, and said that they are starting the process of denuclearization "very quickly."
Included in the agreement that would see North Korea give up its nuclear capabilities was the United States' assurance of security guarantees. Kim is concerned about America's military powers and wants Trump to reassess the 28,000 American troops stationed in South Korea, The Los Angeles Times reported. Kim and Trump will stop the "war games," Trump said adding, "unless and until we see the future negotiation is not going along like it should."
Secretary of State Mike Pompeo seemed to echo the underlying uncertainty about whether or not Kim will actually go through with the agreement. "North Korea has previously confirmed to us its willingness to denuclearize," he said, "and we are eager to see if those words prove sincere."
Part of that uncertainty lies in the fact that North Korea has expressed willingness to denuclearize before, but changed nothing. As CNN outlined, in 1985, North Korea signed the Nuclear Non-Proliferation Treaty. In 1992, it signed a joint declaration to denuclearize the Korean Peninsula. In 1994, it promised the United States that it would end its nuclear program if America provided aid (the deal was violated when it was discovered North Korea had secretly been conducting a nuclear program). Things really picked up with pledges — and broken promises — in the 2000s, to the point where we are today.
But Trump said, "We're ready to write a new chapter between our nations."
Some have pointed out that it wasn't so long ago that the two leaders were calling each other names. Kim called Trump a "mentally deranged dotard," while Trump dubbed Kim the derogative "Little Rocket Man."
While signing the document, Trump responded to a few questions from reporters and seemed to have a change of heart about North Korea's leader. One reporter asked the president what surprised him most about Kim, and Trump responded, "A great personality and very smart. Good combination. He's a worthy negotiator, negotiating on behalf of his people. A very worthy, a very smart negotiator. We had a terrific day. We learned a lot about each other and about our countries."
It'll take some time to figure out whether Trump is right or wrong about Kim and his commitment to denuclearize. But it looks like the two options will either be taking credit or giving blame.