Trump Just Spoke Out About Melania's Controversial Jacket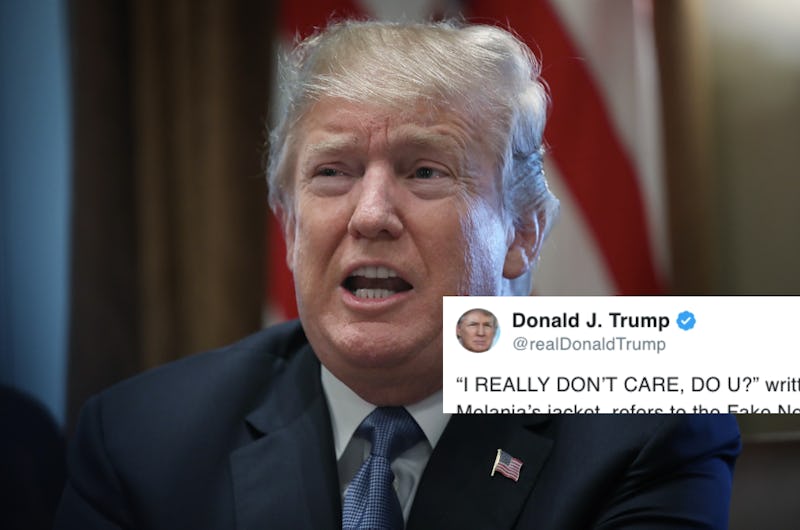 Win McNamee/Getty Images News/Getty Images
President Trump has weighed in on the first lady's controversial jacket. On Thursday, amid a wave of backlash over Melania Trump's Zara jacket, the president defended her in a tweet attacking the "fake news media." He wrote, "'I REALLY DON'T CARE, DO U?' written on the back of Melania's jacket, refers to the Fake News Media. Melania has learned how dishonest they are, and she truly no longer cares!"
The president's tweet, however, directly contradicts the statement Melania Trump's spokesperson Stephanie Grisham gave earlier. Grisham denies that there was any message behind FLOTUS' jacket in an email to Bustle, writing, "It's just a jacket. There was no hidden message. After today's important visit to Texas, I hope the media isn't going to choose to focus on her wardrobe. (Much like her high heels last year.)"
On Thursday, Melania Trump was seen wearing a $39 Zara jacket that boasted, "I Really Don't Care, Do U?" on its back. The large, white font left viewers online rattled and furious; many demanded to know why this was the type of clothing the first lady chose to wear while heading down to a detention center for immigrant children in southern Texas. The center, which is called Upbring New Hope Children's Shelter, is located in McAllen, Texas, where dozens of Latin American immigrant children are being detained.
In response to Donald Trump's explanation, or rather contradiction, of Melania Trump's reason for wearing the jacket, various Twitter users called the president out. In one case, New York Daily News tweeted, "Oh, got it! Thanks for explaining because quite a few people seem to think it referred to her not really caring about the current humanitarian crisis at the border unfolding as a result of your administration's zero-tolerance policy."
Writer Matt Oswalt chimed in and said, "I'm sure Melania's jacket was the #1 thing on the mind of every child taken from their parents and held in cages like animals with no idea what's going to happen to them, thanks for clearing that up."
"This is called doing damage control for something that was supposed to be damage control — for something horrendous you did, which you backed down on — but then turned out to do even more damage," journalist Mike Signorile tweeted.
Time and again, Twitter users refused to believe Trump's explanation and criticized him for trying to justify the jacket that riled so many up for its tone-deaf nature.
It is just a jacket, some might think. Why would the public be rattled by this, of all articles of clothings? But it's not just the statement on the $39 piece, it's the timing that has left Melania Trump's viewers stunned by the nature of her fashion decision. Many have pointed out that the first lady puts deliberate thought into how she appears in front of the public and what she wears, so how could she don a jacket that brags about apathy?
On top of the insensitive nature of her jacket, it seems like Donald Trump's explanation, where he pins it on the "fake news" media, comes across as adding insult to injury. It is not only a contradiction of Grisham's comments to Bustle; some observers may think that Trump's tweet also comes across as entirely oblivious to the plight of immigrants in the United States of America.
For now, it looks like Trump is not on the same page as the FLOTUS' communication teams. Not only is his tweet inconsistent with the statement Grisham gave Bustle, it also casts complete doubt on the tweet that she shared later. Grisham tweeted, "Today's visit with the children in Texas impacted @flotus greatly. If media would spend their time and energy on her actions and efforts to help kids — rather than speculate and focus on her wardrobe — we could get so much accomplished on behalf of children." It's a message that doesn't really sound related to Trump's much reviled "fake news" statement.