Trump Insults Kirsten Gillibrand & She Snaps Back With Pure Class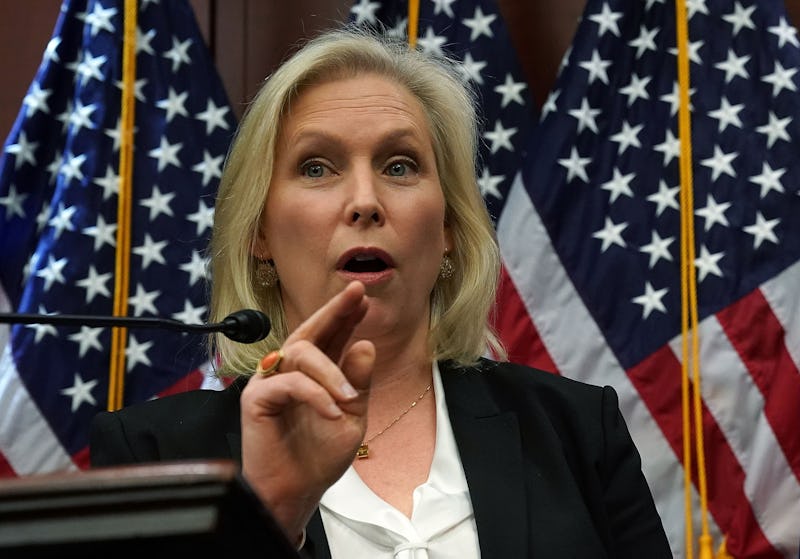 Alex Wong/Getty Images News/Getty Images
In his signature uncensored fashion, President Trump tweeted on Tuesday that Democratic Sen. Kirsten Gillibrand came "begging" him for donations in the recent past. But it was his parenthetical aside — that she would "do anything" for financial contribution — that had Twitter blasting Trump for what many read as sexual harassment. Responding that Trump could not "silence" her, Gillibrand herself tweeted back that he had brought "shame" to his office.
President Trump is, if nothing else, a man of the world. In other words, he's not unaware of how his words can drive the news cycle. Trump has expressly bragged about his ability to get ratings, which is tough to do without quite a load of media savvy.
So his tweet about Gillibrand being supposedly willing to "do anything" for a donation met a near-immediate chorus of outrage on Twitter. For many of the responders, there was no chance that Trump might be unaware of what his tweet implied, no possibility he had somehow accidentally implicated Gillibrand in trading on sexual favors. Rather, the majority of tweets took the POTUS to task.
That includes the response by Gillibrand herself. Gillibrand has been an outspoken critic of Trump, particularly on the issue of the 19 women who have alleged he sexually harassed or assaulted them. Trump has strongly denied all allegations against him.
But Gillibrand has taken a vocal position in that debate, and she's sided with the women. Speaking on CNN on Monday, Gillibrand said:
These allegations are credible; they are numerous. I've heard these women's testimony, and many of them are heartbreaking.
Gillibrand went even further. She said the president should face a full congressional investigation over the sexual harassment and assault allegations, and that "he should resign."
Four other Democratic senators have also publicly called for Trump's resignation, but Gillibrand is the first female senator to do so.
Calls for Trump to step down come on the heels of high-profile resignations in the Senate and House over allegations of sexual misconduct on Capitol Hill. Minnesota Sen. Al Franken resigned on Thursday, after multiple women alleged he had groped them. Michigan Rep. John Conyers Jr. resigned on Dec. 5 after multiple allegations of sexual harassment against the representative from Michigan were made public. Arizona Rep. Trent Franks also announced he would resign at the end of January, following reports that he had asked female staff members if they were interested in child surrogacy.
While allegations of sexual harassment and assault have ended the careers of dozens of men in Hollywood, news media, and Congress, many have begun to publicly muse on the curious way Trump himself has escaped more or less unscathed — and whereas recordings don't exist in most other cases, the president's own voice can be heard bragging about sexual assault in the infamous Access Hollywood tape. Trump's tweet about Gillibrand seemed further proof to some that the president thinks he is untouchable when it comes to sexual harassment.
Some will no doubt argue that Trump meant nothing of the sort when he wrote Gillibrand would "do anything." But, as Barbara Bickart, Susan Fournier, and Martin Nisenholtz argue at The Harvard Business Review, Trump knows how to use social media to harness attention.
In analyzing how Trump wrested an estimated $2 billion in free advertising from network and cable news programs, the authors posit that "traditional media would not have been so complicit if Trump's tweets hadn't been so provocative as to be irresistible. His tweets call out specific individuals and demand a response." "Provocative" and "irresistible" would certainly apply to Trump's Tuesday morning tweet about Gillibrand.
That helps make the case that Trump's sexually-laden innuendo about Gillibrand was intentional. And it makes Gillibrand's unapologetic, unbowed tweet back all the more important — for her, for other name-checked targets in Trump's Twitter feed, and for the country as a whole.