Why This Group Is Playing Trump's 'Access Hollywood' Tape For 12 Straight Hours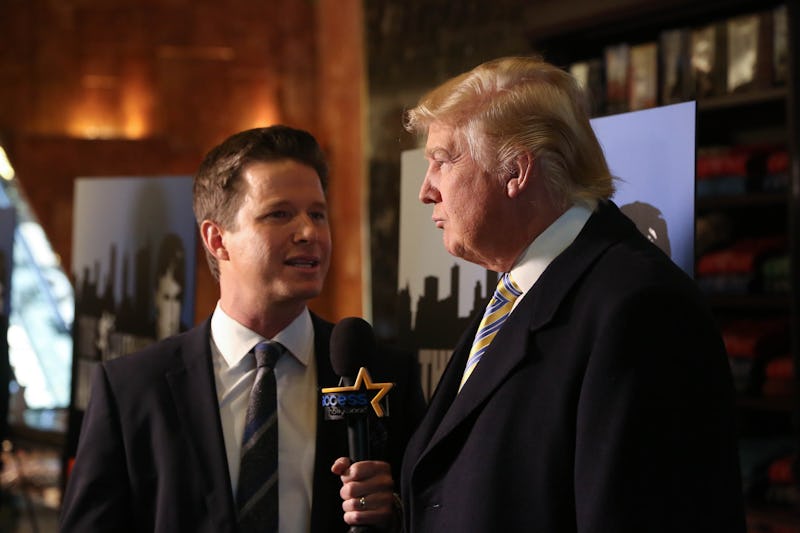 Rob Kim/Getty Images Entertainment/Getty Images
President Trump is no stranger to controversy when it comes to the comments he's made about women, whether it's disparaging someone's physical appearance or remarking on their sexual attractiveness. One particularly vulgar example was the October 2016 release of his 2005 Access Hollywood interview with then-host Billy Bush. In the leaked footage, Trump boasted that his celebrity status gave him the power to "do anything" with women, even "grab 'em by the pussy." And now on Friday, just a few days shy of the release's one-year anniversary, Trump's Access Hollywood video goes to the White House neighborhood.
UltraViolet, an organization that campaigns against sexism, will play the video clip on loop for 12 hours straight on a screen nearly 10 feet high and 16 feet wide next to the National Mall. Here's a refresher on what Trump said exactly to Bush before meeting a soap opera actress:
I've got to use some Tic Tacs, just in case I start kissing her. You know I'm automatically attracted to beautiful — I just start kissing them. It's like a magnet. Just kiss. I don't even wait. And when you're a star, they let you do it. You can do anything. Grab 'em by the pussy.
The video starts rolling at 9 a.m. ET. Washington D.C., residents and visitors can find the screen set near 16th Street and Constitution Avenue, close to the Washington Monument. The women's advocacy group will also hold an anti-Trump rally on Lafayette Square in front of the White House at noon.
In a statement to Newsweek, UltraViolet co-founder Shaunna Thomas said they are playing the Access Hollywood video for 12 consecutive hours so that people wouldn't forget "Trump's true colors" and the effects of his presidency on Americans. "The Donald Trump on that tape is the same Donald Trump that sits in the Oval Office every day, aggressively pursuing an anti-woman agenda, including the active dismantling of legal protections for survivors of sexual assault," Thomas said.
The Washington Post first broke the Access Hollywood tape to the public two days before the 2016 presidential debate between Trump and Democratic nominee Hillary Clinton. Recorded in September 2005 aboard an Access Hollywood tour bus, a section of the tape released features a behind-the scenes conversation between Bush and Trump that made a turn for the lewd. A camera crew and Trump's public relations specialist were present. Trump was preparing for his guest appearance on the soap opera Days of Our Lives. Both wearing microphones, he and Bush broached the topic of seducing women.
First Trump talked about his failed attempt to seduce Bush's then co-anchor Nancy O'Dell :
I did try and f--k her. She was married. And I moved on her very heavily. In fact, I took her out furniture shopping. She wanted to get some furniture. I said, "I'll show you where they have some nice furniture." I took her out furniture — I moved on her like a b---h. But I couldn't get there. And she was married. Then all of a sudden I see her, she's now got the big phony tits and everything. She's totally changed her look.
Then later, when referring to his upcoming meeting with Arianne Zucker, a Days of Our Lives actress who would appear in the soap opera's episode with Trump, he described how he would seduce her. Trump's comments provoked a public outrage, for both his tone toward women and disregard for sexual consent. While Bush issued an apology statement, Trump dismissed his words as "locker room banter." Some athletes swiftly condemned Trump's excuse.
"It was not so-called 'locker room talk,' it was a man bragging about sexually assaulting women," Thomas said in her statement to Newsweek. "That man may now sit in the Oval Office, but we will not let him — or anyone else — forget the tape or those comments."
It's not too hard to forget when Trump's history with women, not to mention public feuds, are so publicly documented.