Trump Tells His Own Secretary Of State He's "Wasting His Time" Via Twitter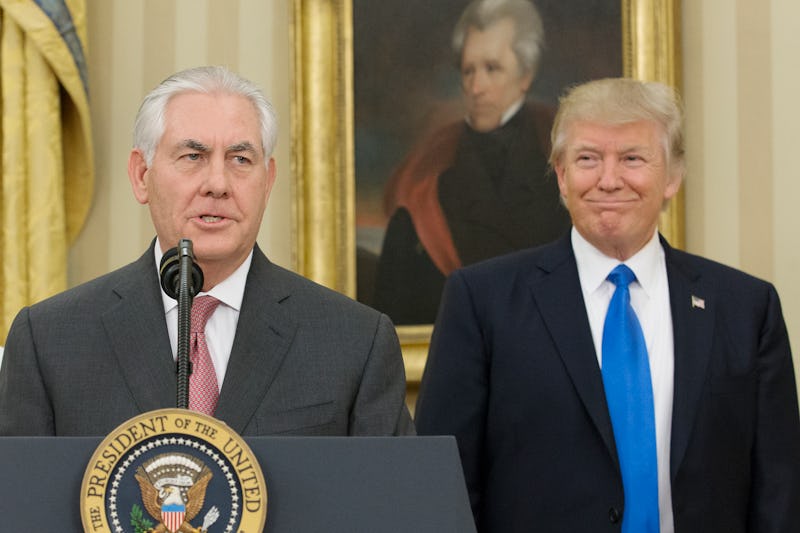 Pool/Getty Images News/Getty Images
During a visit to China this weekend, U.S. Secretary of State Rex Tillerson confirmed that the United States is in direct contact with North Korean leaders, leaving open the possibility for a diplomatic approach to avoiding nuclear war with the isolationist regime. President Trump, however, seemed to undercut this diplomatic approach on Sunday. Trump tweeted that Tillerson was "wasting his time," suggesting that the President is no longer willing to peacefully negotiate with North Korean leader Kim Jong-un.
"I told Rex Tillerson, our wonderful Secretary of State, that he is wasting his time trying to negotiate with Little Rocket Man...," Trump tweeted. "...Save your energy Rex, we'll do what has to be done!"
It's unclear what exactly Trump meant by "what has to be done," but given his aggressive rhetoric in recent days — including threats to "totally destroy" North Korea — his tweet seems to suggest that he is more willing to escalate the war of words between the two nations through military action than engage in peaceful discussions with Kim.
This is not the first time that Trump has used his Twitter account — which has almost 40 million followers — to personally attack members of his administration. But given just how heated the conflict between the United States and North Korea has become, Trump's statements have drawn condemnation from many international security experts.
Carl Bildt, co-chair of the European Council on Foreign Relations responded via Twitter, saying, "President Trump spectacularly shot down SecState Tillerson after important Beijing talks. How long can this last?"
Richard N. Haass, president of the Council on Foreign Relations, also too to Twitter to express his concern, stating, "This is sort of statement that increases the odds of a crisis & that increases the odds that a crisis will escalate into an armed clash." He added, "not 1 civilian in admin-not Potus, VP, Jared, SecState, UN amb-has experience of an int'l crisis."
Many professionals in the diplomatic field are concerned that Trump is sending the message to North Korea that he is seriously considering military intervention in the region. Given that North Korea has already accused the United States of declaring war on the country, this significant — and dangerous — statement could make the already tense relationship between the two countries even more hostile.
Tillerson has repeatedly called for a diplomatic approach to negotiating with North Korea, despite the President's heated rhetoric. On Saturday, he told reporters that he is willing to talk things through with leaders in Pyongyang.
"We have lines of communication to Pyongyang. We're not in a dark situation, a blackout," Tillerson said. "We can talk to them, we do talk to them." He added that the best thing that the U.S. can do to at the moment to handle the escalating conflict is to let things "calm down."
I think the most immediate action that we need is to calm things down. They're a little overheated right now. And I think we need to calm them down first.
This is clearly pretty much the exact opposite of what Trump's Sunday morning Tweet accomplished. In this unusual attempt to usurp the power of the Secretary of State and instead handle an international conflict on his own, Trump has sent a clear message that he is still, as he has been from the start of his presidential campaign, a rogue leader who will not bend to the pressure of others — even in matters of national security.
Pyongyang has not yet responded to Trump's latest statement. But given how aggressively the it has reacted to his past fiery remarks, it's safe to assume that we can expect another week of escalating threats from the North Korean regime.