Trump Is Sending Jared Kushner To The Middle East To Solve The Israeli-Palestinian Crisis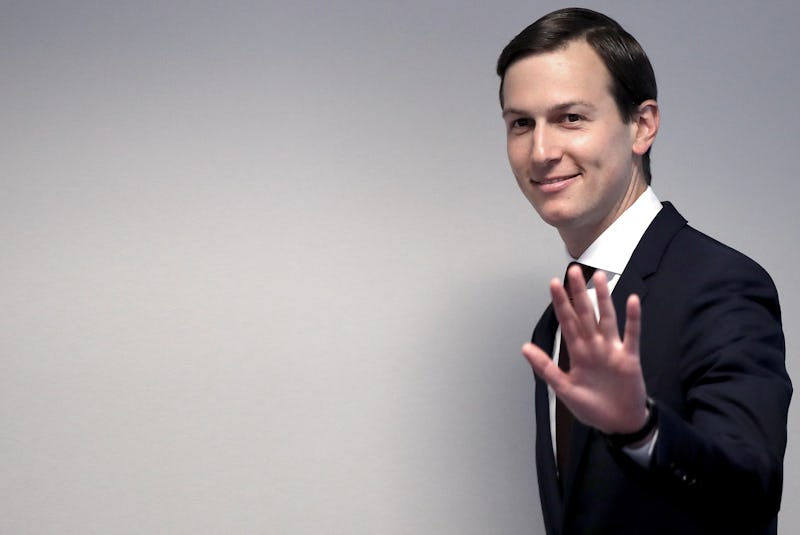 Win McNamee/Getty Images News/Getty Images
A senior White House official announced on Friday that Donald Trump will send Jared Kushner to the Middle East in order to restart Israeli-Palestinian peace talks. Kushner — who is the White House senior adviser — will be joined in the Middle East by two other top aides: Middle East Envoy Jason Greenblatt and Deputy National Security Adviser Dina Powell.
Though the dates for the peace talks have not yet been finalized, The Hill cited the White House official as saying that attendees will "focus on the path to substantive Israeli-Palestinian peace talks, combating extremism, the situation in Gaza, including how to ease the humanitarian crisis there." Kushner, Greenblatt, and Powell are slated to meet with leaders from the Palestinian Authority, Israel, Saudi Arabia, Jordan, Egypt, Qatar, and the United Arab Emirates.
This is not the first time Trump has sent his son-in-law to the Middle East. Kushner and Greenblatt made a similar trip back in June to meet with Israeli and Palestinian leaders, but Politico reported that the Trump administration has not made much progress on this issue thus far.
The June meeting also reportedly resulted in tensions between Kushner and Palestinian Authority leader Mahmoud Abbas, after Kushner informed Abbas of Israeli demands that the Authority halt its payments to Palestinian prisoners and their families. According to The Telegraph, the Authority provides monthly stipends to families of Palestinians who are killed by Israel or imprisoned in Israeli jails.
Moreover, Kushner and Greenblatt's trip was also not the first time that the subject of the Authority's payment policy was broached. Earlier this year, Secretary of State Rex Tillerson traveled to the region, and mistakenly claimed to Congress that the Authority would no longer provide payments to the families of Palestinian prisoners. It took no more than a few hours for both Israeli and Palestinian officials to dispute Tillerson's claim.
Following Kushner's June visit, it was unclear whether or not the Trump administration would continue to broker Israeli-Palestinian peace talks. In a lengthy statement on Friday, the senior White House official who announced the next set of peace talks dispelled any speculation about the administration ending these efforts:
While the regional talks will play an important role, the president reaffirms that peace between Israelis and Palestinians can only be negotiated directly between the two parties and that the United States will continue working closely with the parties to make progress towards that goal. President Trump has previously noted that achieving an enduring Israeli-Palestinian peace agreement will be difficult but he remains optimistic that peace is possible. To enhance the chances for peace, all parties need to engage in creating an environment conducive to peace-making while affording the negotiators and facilitators the time and space they need to reach a deal.