Trump Reportedly Invited Putin To Miss Universe (& Said He Hoped To See "Beautiful" Women)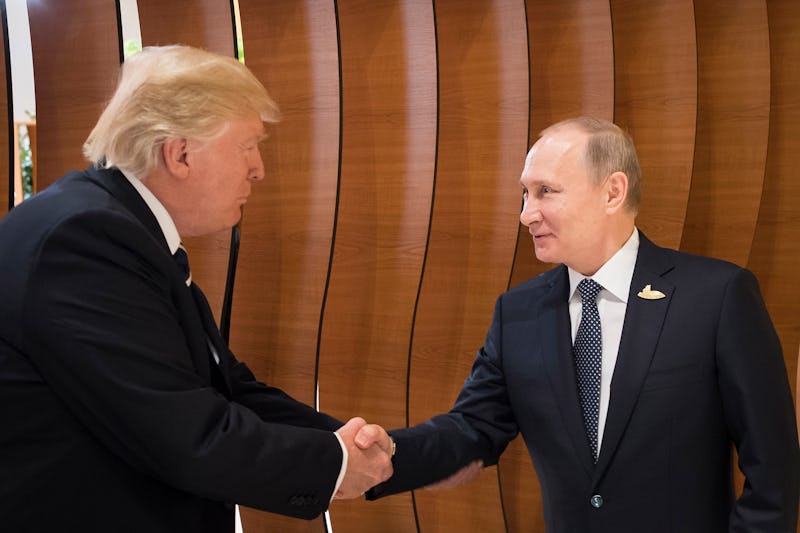 Handout/Getty Images News/Getty Images
Donald Trump reportedly sought to establish a friendly relationship with Russian President Vladimir Putin years before his presidential ambitions turned into reality. Now, however, those efforts may be coming back to bite him. A letter President Trump reportedly wrote to Putin in 2013 inviting him to a Miss Universe pageant has reportedly been turned over to investigators tasked with looking into Russia's alleged meddling in the 2016 presidential election, the Washington Post has reported.
According to the Washington Post, Trump reportedly penned the letter as a means of extending a personal invitation to Putin to join him at the 2013 Miss Universe pageant, which was to be held in Moscow later that year. The letter also reportedly contained a handwritten postscript noting how Trump was looking forward to the "beautiful" women he'd see during his visit to Russia. At the time the letter was written, Trump, then a real estate mogul whose dreams of the U.S. presidency seemed far-fetched, sought to expand the Trump brand into Russia.
Tweets Trump posted around the time the letter was reportedly written appear to back up claims that he was eager to establish a friendship with the Russian leader. "Do you think Putin will be going to The Miss Universe Pageant in November in Moscow," Trump tweeted in June of 2013. "If so, will he become my new best friend?"
A few months later, Trump admitted to inviting Putin to his pageant during an interview on Fox and Friends. "So we've invited President Putin," he said in an interview that aired in September of 2013. "That'll be interesting. I know he'd like to go." Trump brought up the invitation again in an interview on MSNBC Live the following month, saying, "I know for a fact that he wants very much to come, but we'll have to see." Trump went on to admit they hadn't yet gotten a response from Putin but that an invitation had indeed been extended.
In November on 2013, Trump returned to MSNBC, this time boasting about his relationship with Putin. "I do have a relationship with him and I think it's very interesting to see what's happened," he said. Trump went on to praise Putin in that interview for doing "a very brilliant job in terms of what he represents." He claimed Putin had "eaten our president's lunch."
However, during the 2016 presidential election Trump appeared to offer contradicting statements regarding his relationship with Putin. In February of 2016, Trump said he had "no relationship" with Putin other than the fact Putin had complimented him. "He said, 'Donald Trump is a genius and he is going to be the leader of the party and he's going to be the leader of the world' or something," Trump said. Putin had in fact only said Trump was "a very lively man, talented without doubt" and noted he was the "absolute leader in the presidential race."
Trump walked his comments on Putin back even further in July of 2016 when he claimed he'd never met Putin and didn't even know who he was during a news conference. "I never met Putin, I don't know who Putin is," Trump said. "He said one nice thing about me. He said I'm a genius. I said 'Thank you very much' to the newspaper, and that was the end of it. I never met Putin." In 2013, Trump had told David Letterman that he'd met Putin once.
The letter is believed to be the first time Trump ever attempted to reach out directly to the Russian president. According to The Washington Post, it remains unclear if Putin ever received the letter, which has now reportedly been given to investigators looking into allegations the Trump campaign colluded with Russia in their alleged meddling in the 2016 election. Trump has repeatedly denied any collusion.