Trump Reportedly Screams At TV Reports About The Russia Probe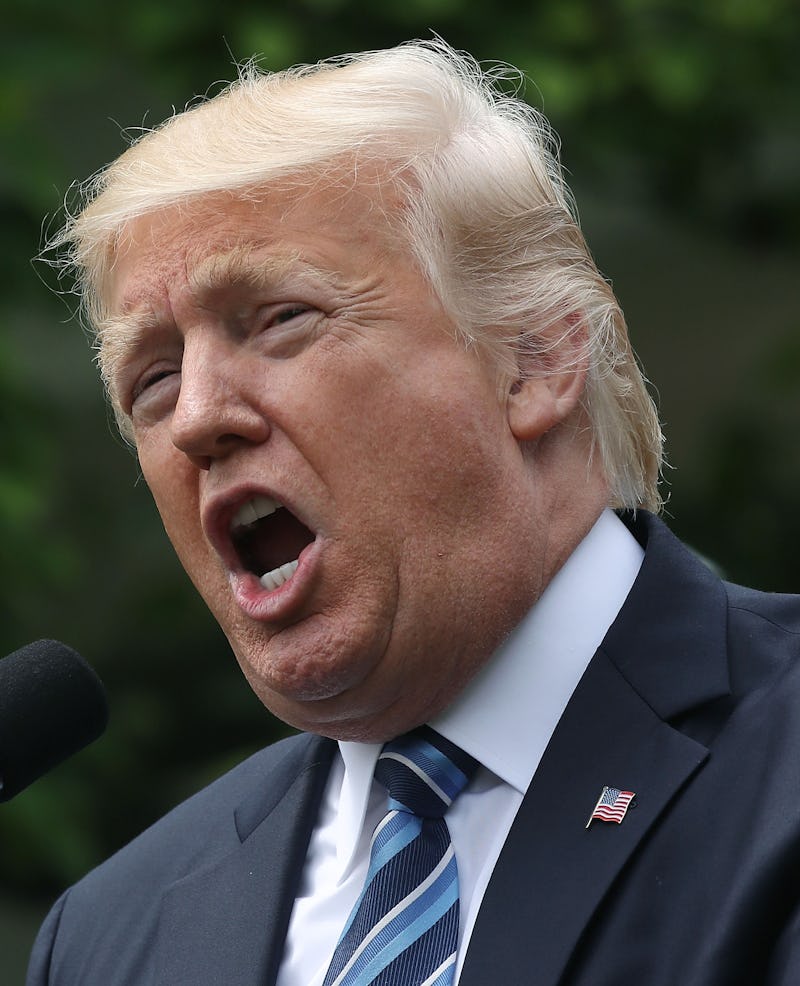 Mark Wilson/Getty Images News/Getty Images
The FBI's investigation into Russia's alleged interference in the presidential election has been a great cause of frustration for the president — so much so that Donald Trump allegedly screams at television reports about the Russian probe when they come on, two of his advisers told Politico. In the days leading up to his firing of FBI Director James Comey, Trump routinely expressed anger to his aides, questioning why the allegations about his campaign's ties to Russia had not dissipated, why the investigation was still ongoing, and why people weren't publicly defending him.
Politico also reported that Trump weighed the decision to fire Comey for more than a week before finally doing so. Though White House officials have scrambled to explain that Comey was let go because of how he handled Hillary Clinton's email investigation last year, the decision's timing suggests that it may be linked to the president's increasing frustration with Comey and the Russia investigation. Most recently, Trump was reportedly angry that Comey admitted to investigating his campaign during a Senate hearing, though he was also allegedly frustrated when Comey did not back his wiretapping claims against former President Barack Obama.
The fact that Trump has reportedly been yelling at both the people on TV and his aides, demanding that they speak up for him, is not surprising given his growing impatience. However, his decision to fire Comey will, in all probability, make it even harder for him to control the narrative around the Russia investigation, as he so desperately seems to want to do.
On Wednesday, in brief remarks to reporters during an Oval Office meeting with former Secretary of State Henry Kissinger, Trump defended his decision to fire the FBI director by saying that "he was not doing a good job." In his short letter of termination to Comey, Trump did not mention Russia at all, instead simply claiming that new leadership was needed to restore "public trust and confidence" in the FBI. Vice President Mike Pence was more explicit, telling reporters at the Capitol that the Russia probe had nothing to do with Trump's decision.
"That was not what this was about," Pence said on Wednesday. "The president took strong and decisive leadership here to put the safety and security of the American people first."
Nevertheless, the timing of Comey's firing has become a widespread cause for concern. According to POLITICO, the Trump administration has claimed that the president only considered firing Comey after receiving official recommendations from Deputy Attorney General Rod Rosenstein and Attorney General Jeff Sessions, but this contradicts reports that he had been weighing the decision for at least a week.
Moreover, Trump's decision has led to fallout across the political spectrum, with Democrats such as Elizabeth Warren and Chuck Schumer calling for action, and some Senate Republicans expressing skepticism. Perhaps most notably, Republican Sen. Richard Burr, the chairman of the Senate Intelligence Committee, said that he was concerned about Comey's termination:
I am troubled by the timing and reasoning of Director Comey's termination. I have found Director Comey to be a public servant of the highest order, and his dismissal further confuses an already difficult investigation by the Committee... Director Comey has been more forthcoming with information than any FBI Director I can recall in my tenure on the congressional intelligence committees.
The skepticism voiced by Burr and other Senate Republicans could make a difference when Trump nominates Comey's replacement. But amidst all of the uncertainty regarding the Russia probe, one thing is clear: Unless Comey's replacement resumes his predecessor's investigation into the Trump campaign or a special prosecutor is appointed to do so, the president may find himself continuing to yell at his television, because few things could ensure a widespread loss of trust in the administration more than a failure to let the investigation run its course.